Volkswagen Golf R32
Our R32's time with us is running out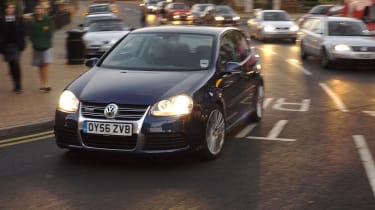 It's been an interesting month, jumping between my R32 and the 'Grand Challenge' Nissan 200SX. Obviously there's a gulf in grip and ground-covering ability, but what I've found most interesting is the way each car makes you feel.
There's no doubting that for the committed petrolhead there is a great deal of street cred to the humble 200SX, but slide from its shiny leatherette chair and into the cosseting Recaro in the Golf and you can't help but feel smug. There's a grown-up air to every new Golf, but the range-topping R32 makes you feel particularly special. I'm not sure exactly what it is, but the fact that everyone seems to know what you're driving and there seems to be huge respect for the over-engined Golf might have something to do with it.
Also in contrast to the 200SX, the Golf's appeal has transcended the petrolhead sector. Whether you're giving your granny a lift to the shops or impressing your mates with a bit of lift-off oversteer, the R32 ticks all the boxes. It's a true chameleon, appearing as sensible as Gary Lineker to some and as intimidating as Stuart Pearce to others.
This ability to both charm and overawe was highlighted when I stopped for petrol recently. As I started to fill up I couldn't shake the feeling that I was being watched. Then I noticed that, a few pumps across the forecourt, a local Sunday league football team were pouring out of a tired Transit minibus to survey the ticking R32.
I braced myself for the usual barrage of questions, but in fact the footballers paused halfway across the forecourt and discussed the car's stats amongst themselves. Strange.
Stranger still, when I was waiting to pay for the fuel, a couple of the players who were ahead of me in the queue invited me to jump in front of them. 'How's the R32 going, mate? Any good?' one asked. And that was it. No endless quizzing about the car's performance, no suggestions of superior cars, just polite respect.
So it seems the R32 is as much about projecting an image as anything else. And as with everything good about this car, it all revolves around that glorious 3.2-litre V6 up front. Saying goodbye to the R32 next month is going to be very painful.
Having said all that, if all you want to do is go sideways, get a 200SX. You'll love it so much you won't care what people think.
Running Costs
| | |
| --- | --- |
| Date acquired | November 2006 |
| Total mileage | 18,825 |
| Costs this month | £0 |
| Mileage this month | 1433 |
| MPG this month | 26.4 |