UK fuel supply: how to buy petrol and diesel sensibly
The UK is in the midst of some fuel supply problems, but you needn't stock up on jerry cans and there's no cause for panic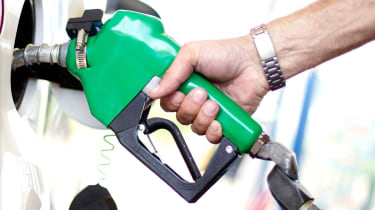 It's the topic of the moment. UK fuel station forecourts are either packed or closed entirely, but despite the dramatic scenes there's no shortage of petrol or diesel, only of the drivers to deliver it. Diesel is currently the hardest to find with high octane petrol such as Shell V-Power seeming to last the longest at filling stations. Haulier shortage or not though, it's panic buying that's causing the real issue.
In an effort to combat it, the government has suspended competition laws previously enforced to prevent distribution of data that could lead to price fixing. Though a hike in prices is likely as a result, the move will allow companies to deliver fuel more easily to parts of the country that need it most, reducing disruption to supplies. 
Fuel stations owned by BP, Shell and Texaco have also introduced a £30 maximum limit to manage supplies while deliveries return to normal.
> E10 fuel in the UK – what is it, and will it affect my car?
The government has also announced a temporary visa scheme for European workers, aiming to entice forgein hauliers to return to the UK for a limited period. A number of publications have reported that up to 5000 visas will be issued, with the scheme coming to a close on December 24th 2021. Should it succeed, it will buy time for those in power to find a more permanent solution to the HGV driver shortage.
Rumours of military assistance to ease the fuel supply problems have been rife in recent days, but the government claims there are no plans to take such measures at the time of writing. There is plenty of fuel in the UK to go around and the recent issues with distribution will ease soon but everything will get back to normal sooner if motorists take a common sense approach.
What should you do?
As much as we enjoy quickly burning through a tank of fuel at evo, it's essential that drivers fill their tanks only when they really need to. Though the unpredictability of fuel availability makes this easier said than done, it will go a long way to restoring order on our forecourts.
In the same vein, avoid joining length queues at fuel stations wherever possible, especially if they lead back onto main roads where traffic is being disrupted as a result. Forecourt etiquette is also more important than ever and remember fuel pumps have long hoses and will stretch around your car. .
How much fuel can you store at home?
Along spending limits being introduced by BP, Shell and Texaco at the fuel stations they own, some are also restricting the number of containers that can be filled.
Although the law lacks clarity on exactly how much fuel can be transported via jerry cans at any given time in a vehicle, a maximum of 30 litres can be stored at your home, with no more than 10 litres to be stored in a single jerry can. The message, once again, is not to buy fuel that you don't need in the short term and certainly don't store it in illegal or dangerous quantities at home or in your car.
UK fuel supply conspiracy theories 
As is the way of the internet, a number of conspiracy theories have suggested ulterior motives behind the fuel supply problems in the UK. One that has gained some traction is that fuel firms had such low demand during the pandemic that they now have excess, ageing fuel that they're now attempting to sell in a hurry. One simple fact that debunks this is that fuel firms simply don't have the capacity to store the quantities of fuel consistent with this theory. Fuel is refined according to demand and while there's no shortage, there's no excess that needs to be sold off quickly, either.