Whether it's because you don't have a garage, or because the garage you have is full of other things, you may need to keep you car parked permanently outdoors. In such situations, it's wise to invest in a car cover, which will shield your vehicle from the worst Mother Nature can throw at its paintwork, substances like rain, dirt, tree sap and bird droppings.
But a car cover is not just about protection from airborne hazards: covering your car when it lies dormant for sustained periods helps ensure it's far less likely to sustain scratches, scuffs or the bleaching effects of sunlight. But like any wise investment, it's good to choose one of sound quality, durability and value for money. We put eight outdoor car covers to the test, each trialled on a 2006 Renault Clio.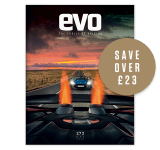 Subscribe to evo magazine
Subscribe today to have every issue of evo delivered straight to you. You'll SAVE 39% on the shop price, and get evo for its original cover price for a whole year!
The test
One of the key areas we looked at when testing each cover was its breathability. Moisture, after all, can damage paintwork when it's trapped under a waterproof cover. We carried out this aspect of the test by lying each product over a steam-filled box with a moisture trap above, and we took note of the results after five minutes.
Every cover we trialled passed our leak test, successfully resisting 500ml of water for 10 minutes. We rated each product on protection against accident bumps and we also inspected ease of use - testing the tether straps as well as the fit and overall quality. Other things taken into account included security cable mountings, mirror pockets and zipped door panels.
Then, as ever, we factored in the price from online retailers - although those listed below will vary depending on the size of your car.
The verdict
In terms of all-round use at a reasonable price, the Halfords and Sealey car covers are both excellent choices. But if you're looking at increased protection (if, for example, you leave your car parked outside for prolonged periods), our pick of the premium options would be the Concours Eclipse. 
1. Halfords Advanced All Seasons Car Cover Medium
2. Sealey All Seasons Car Cover 3-Layer SCCM
3. Concours Eclipse 4-layer Car Cover
Reviews
Halfords Advanced All Seasons Car Cover Medium
Price: £60 (medium size)
Rating: 5/5
This three-layer cover from Halfords is certainly a good all-rounder. It performed well in terms of breathability, and produced knock protection results that were impressive for a product that only weighs 2.5kg. 
Marketed as being suitable for cars 4.1m long, we found it fitted our 4m Clio with no issue at all, the elasticated sections closing easily under the car's valances. Sady, there were no mirror pockets and no security eyelet, but it does have three tethers and flying buckles, which will keep it from coming loose. 
Sealey All Seasons Car Cover 3-Layer SCCM
Price: £71.94
Rating: 4/5
The Sealey All Seasons car cover isn't that dissimilar to the Hamilton Classic, simply lacking a couple of layers and weighing just 2.6kg. It shrugged off our water ingress test, got an average score for breathability and turned out to be easy to fit. Its length was perfect for our test Clio, coming down well beneath the wheels. Its three fixed tether straps held it firmly in place, and protected the car from the odd knock and bump. This is solidly reliable cover was only narrowly edged into second place. 
Concours Eclipse 4-layer Car Cover
Price: £150 
Rating: 4/5
Ranking the three premium covers on test turned out to be a close call. The four-layer Eclipse didn't perform as well as the other two when it came to knock protection and breathability, but it was a narrow margin, which is why the lower price, compared to the other high-end products, secured its victory. The fit to our car was near-perfect, helped in no small part by the two large mirror pockets. Weighing 3.2kg, it offered ample protection but remained easy to handle. The two tethers held it in place, while the buckles and silicone covers ensured there was no scratching. The plastic eyelet in the centre takes the optional security cable.
Buy it from Concourse Auto Products here
Hamilton Classic Luxury Exterior Car Cover
Price: From £165
Rating: 3/5
The Hamilton car cover is available in an impressive 30 sizes, and boasts a five-layer design. This contributes to a hefty 4kg weight but the cover performed brilliantly on breathability and the knocks test we gave it. We also like the soft, fluffy protective lining, and the twin fitted tethers, which backed up the elastics tightly beneath the front and rear valances. However, at this price, we were hoping to see additional features like mirror pockets, a security eyelet and more covering down the car's sides.
Buy it from HamiltonClassic here
Classic Additions Ultimate Semi-fit Car Cover Medium
Price: From £171.60
Rating: 3/5
The 'Ultimate' lived up to its name in our breathability and knock tests - the latter performance being no surprise, as this cover weighs-in at 5kg. That heft, plus its smooth finish, made it hard to handle and fit without a second pair of hands. But we like its three strong tethers, as well as the neatly sewn flaps that kept the buckles away from the car's paintwork. Unfortunately, their positioning meant we were only able to use the centre one, which had a large security eyelet.
Buy it from Classic Additions here
Cosmos Mirage Car Cover Medium 01022
Price: £42.99 
Rating: 3/5
This car cover from Cosmos is competitively priced, especially as it comes with a zippable section that gives you access to the driver's door without the rest of the cover having to be removed. Other highlights included the mirror pockets, although they were a little tight on our test car's wing mirrors. In fact, this cover was tight everywhere, to the point that we couldn't quite pull it over the Clio's rear valance. That, the tether, lacklustre breathability and a so-so performance in the knock test brought the Cosmos's score down. 
Maypole MP9332 Premium Waterproof Cover
Price: £32.29 
Rating: 2/5
At just 2kg, this shiny silver cover was the lightest we tested, which might have made it easier to handle, but also meant that you'd need help if there was a strong breeze. And while it slipped easily over our vehicle and offered decent security, it bunched up at the rear of the car. Also, it didn't perform so well in our knock test, and isn't classed as breathable.
Clarke Medium Lightweight Weatherproof Car Cover
Price: £28.79 
Rating: 2/5
Another two-star car cover, the Clarke turned out to be tough, but weighing just 2.3kg didn't impress us in the knock test. We did like its soft inner lining that was gentle on the car's paint, but it had no tethers, instead relying on elastic at the front and rear. This didn't deliver in terms of security - made worse by the fact we couldn't pull it below the rear valance. Its cheapness means it would be just about serviceable in situations where security and moisture aren't issues.