Alfa Romeo's ambitious model growth
Alfa Romeo reveals its ambitious future plans that will see its range of models significantly increase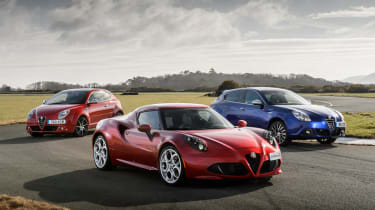 Alfa Romeo aims to return to its sporting roots by adding eight new cars to its line-up, all of which will ditch front-wheel drive layouts for a brand new rear-wheel or all-wheel drive platform.
Announced at parent company Fiat-Chrysler's presentation, the new Giorgio platform will be used for cars ranging between the compact and SUV segments, meaning the slow-selling Mito will be discontinued but the larger Giulietta will be replaced as a rear-wheel drive hatch.
This represents one of the biggest overhauls of the Alfa Romeo brand in its history, with CEO Harald Wester suggesting that this "best-in-class" architecture will bring the classic marque more into line with its historic sporting credentials – something it had struggled to cling onto up until the recent addition of its Alfa 4C and 4C Spider sports cars.
It seems Alfa Romeo is keen to shrug off the 'rebadged Fiat' image much of its line-up had acquired over the last two decades, openly admitting its recent failings and revealing a future of plans to emulate its racing pedigree. Alfa plans to create new cars possessing a "perfect 50-50 weight distribution" and "class exclusive power-to-weight ratios," emphasising how it will focus on challenging German rivals that it admits have "built a phenomenal lead" in recent years.
This new era for Alfa Romeo will see the brand returning to the spirit of its 'skunk works' that underpinned its early years, the carmaker deciding to develop its own 'driver-centric' technological solutions, whilst only relying on parent company Fiat-Chrysler for financial support and the access it provides to such a large pool of engineering talent. A range of Italian-built four- and six-cylinder petrol and diesel engines will power the new cars.
The first model in the new line-up will go on sale at the end of 2015, whilst seven more cars – including a rumoured high-performance Cloverleaf version of the 4C – will apparently arrive in showrooms between 2016 and 2018. This is part of an ambitious five year business plan to increase sales from 74,000 cars in 2013 to 400,000 in 2018.