Pininfarina Alfa Romeo concept
Stunning Pininfarina roadster to celebrate Alfa Romeo's birthday at Geneva motor show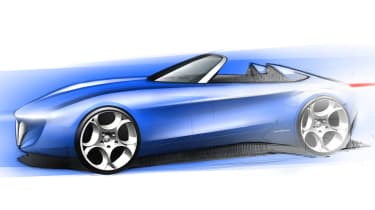 Pininfarina could be set to steal the Geneva show with this rather lovely looking Alfa Romeo concept. Admittedly it's a mere sketch for now, but the Italians can craft art even from felt-tips and paper.
What the drawing does show us is a roadster concept that will draw heavily on Alfa Spiders of the past, though more modern styling cues such as the long bonnet and strong shoulders of the current Alfa Romeo Brera and Spider dominate. The classic Alfa telephone dial wheels make a typically welcome appearance.
And while Geneva's a regular haunt for Pininfarina concepts, they've not just made this one willy-nilly. In the company's words, it's 'an iconic object that, binding with an ideal thread the past and the future of Pininfarina, starts the celebrations for its 80th anniversary, representing at the same time an homage to the Alfa Romeo 100th birthday.' Quite.
It's a car we're really looking forward to seeing on the Geneva stands. As usual, evo.co.uk will be beaming live from the year's biggest motor show with lots of up-to-the-minute news and blogs, so come back from March 2 2010 for live Geneva content.
Follow evo on Twitter and Facebook for car news and views
Extra Info