Alpina Deko Set decals - Art of Speed
Alpina's trademark 'Deko Set' decals have been around for almost half a century, and we explore their origins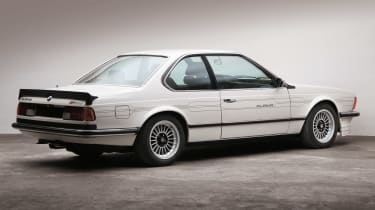 Innately right on most Americana, the racing stripe is a rare thing indeed in the world of European road cars. In fact only very special models from the likes of Renault and Ferrari are brazen enough to flaunt something so jazzy. Bucking the trend is Alpina, which has offered racing stripes on every one of its BMW conversions since 1974. Known simply as the 'Deko Set', these unusually sophisticated decals underline Alpina's modern-day role as understated antidote to the BMW M-car and are an elegant strand of the brand's DNA.
Their genesis was in the mid-'70s, when Alpina began asking customers whether they'd like to give their car a 'new identity' and a 'sporty appearance'. If so, rhombic designs were applied to the flanks of the car – then perhaps a modified Neue Klasse BMW, or a 2002 or CS – in colour schemes often derived from successful BMW Alpina race cars, on which the graphics first sprouted. Green, for instance, emerged on the demonic Gösser Beer 3.5 CSL. Previously only the script 'BMW ALPINA' had been available – on the front wings and usually in silver or black. Either way, it  could all be easily removed if the novelty somehow wore off.
> New Alpina B5 saloon and estate launched with 613bhp
A no-cost option originally promoted in the UK through the Sport Parts brochure, the Deko Set originated from a time when Porsche drunk Martini, McLaren smoked Marlboro Reds and liveries everywhere were starting to become uncomfortably, brilliantly bombastic. Racing stripes were the rage, and Alpina, being a successful motorsports outfit moving into road cars, understandably had to have them. What's so remarkable is that the fundamental design hasn't changed in four decades.
There have been subtle tweaks to the original recipe, however. In the '80s the solid colours could be hollowed out to leave a wonderfully discreet gold or silver filigree. The decals became even less conspicuous when a new 5-series arrived in 2003, with Chris Bangle's contentious 'flame surfacing' demanding thinner lines. Today's delicate tendrils are a unique crossbreed of a full-fat racing stripe and the hand-painted pinstripe that's a £1080 option on a Rolls-Royce Phantom.
Inspiration for the first Deko Set came from downhill skiing. Burkard Bovensiepen, who in 1962 founded Alpina as we know it by installing twin Weber carburettors on an asthmatic BMW 1500, stole the design from a pair of Fischer C4 skis. But the look isn't to all tastes, and the Deko Set is far from a shoo-in on the options list. In fact only half of buyers want it, except in Japan, where almost every car is ordered with it – in gold.