Ariel announces 'Atom Cup' race series
A new race series from Ariel called the 'Atom Cup' has just been announced, starting next year in the UK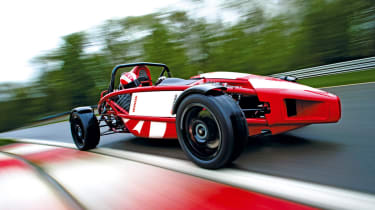 Ariel Motors will host a one make cup series for its Atom track car. Kicking off in 2013, the Somerset based firm is hoping to hold events spanning 8 weekends at 16 different tracks across the UK including Donington, Silverstone and Cadwell Park.
In many ways the Atom Cup car that has been specially formulated for the new series will resemble that of its standard brother with the skeleton chassis and massive air intake next to the drivers head. However this hardcore rendition does get full roll protection, instruments Lewis Hamilton would be familiar with, upgraded Ohlins suspension and tyres from series sponsor Yokohama. All cars will be powered by the famous 2.0 Honda iVTEC power plant from the Civic Type-R.
'It is something that we have talked about and wanted to do for a long time and have now spent a lot of time trying to get all the details right'says Ariel Director Simon Saunders.
'We particularly wanted the racing to be fair and cars evenly matched, rather than simply the guy with the most money winning – something which seems to be prevalent in all aspects of motor sport these days. I think it's the first time that a race series has been done in this way.'
Ariel's 'Spec Atom' championship in the USA has been an extraordinary success since it began in 2010, and there hasn't been a single DNF due to mechanical failure in its history. The series offers three different packages to choose from depending on how much cash and experience you have. Prices start at 53,195 plus VAT, and include all meals, accommodation and entertainment. You even keep the car at the end of it all.