The 13 fastest Goodwood Festival of Speed hillclimb runs so far
From F1 cars to all-electric monsters, the list of the fastest Goodwood FOS hillclimb times features an eclectic mix of vehicles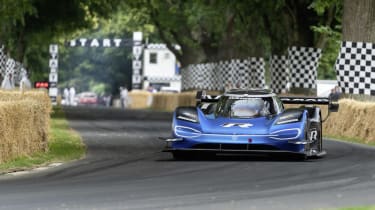 For all its pageantry, huge mainstream manufacturer presence and opportunities for automotive retail therapy, the Goodwood Festival of Speed is - at its core - a hillclimb event. But the course at FOS is a little different to a purpose-built facility like Shelsey Walsh, or a closed public road like Pikes Peak.
Instead, the driveway snaking through Goodwood Estate and past Goodwood House is temporarily lined with hay bales and used as a venue for incredible cars (plus a few bikes) from the past and the present to blast over. The very fastest cars and drivers compete in the Shootout time trial for overall victory.
The course is a little over a mile long and climbs just under 100 metres from the bottom to the top. It's narrow, and in places extremely tricky. Molecomb is a 90-degree left-hander written into motorsport folklore - drivers must start breaking before they even see it to avoid a very public crash - while a full-throttle pass of the flint wall further up takes a decent dose of bravery.
The quickest car and driver combinations can dispatch the whole nine-turn course in under 50 seconds. Below we've collated the 13 fastest times ever, to sneak in some old favourites that dropped out of the top 10 in recent years:
13. Rod Millen, Toyota Tacoma - 45.0
New Zealand driver Rod Millen and his 800bhp Toyota Tacoma are both Pikes Peak legends, but the pairing also made quite a splash at the Goodwood Festival of Speed. In 2003 Millen couldn't quite top the timesheets as he did the year before in a similarly powerful Celica, but his wild run is a joy to watch and was fast enough to place him in the all-time top 10 for years to come. 
12. Martin Stretton, Tyrrell-Cosworth P34 - 45.05
The P34 remains one of, if not the most unusual Formula 1 cars of all time, and with historic racing veteran Martin Stretton behind the wheel, the six-wheeler proved itself to be a formidable weapon at Goodwood, too. In the year 2000 running of FOS, Stretton and his Tyrrell won the shootout, delivering a time that wasn't nudged out of the top 10 until only a few years ago. 
11:  Olly Clark, Subaru Impreza 'Gobstopper II' - 44.91
Olly Clark won Goodwood's Shootout two years running - in 2015 and 2016 - using a 900bhp third-generation Subaru Impreza hatchback. The car was built by Roger Clark Motorsport, the family firm, for the Time Attack series. The swift Subaru took its name from its predecessor, dubbed 'Gobstopper' as Olly, his brother Matt and their colleagues wanted to silence those who were sceptical about the potential of Imprezas. 
Gobstopper II has proven itself several times over. Olly used it to secure the Time Attack title in 2014, and a year later, its best time at Goodwood pushed it into the top 10. It's since slipped outside, but Olly's 2015 run is still one of the most thrilling ever seen at FOS.
10: Gary Ward, Leyton House-Judd CG901B - 44.64
Leyton House isn't exactly a household F1 name. Brought about via a rebranding of the March team, it was only around for two years, in that time picking up one podium plus a couple of further points finishes. 
Years later, its first car - the Judd V8-powered CG901 - would come to Goodwood for a more auspicious outing, setting a very fast time with Gary Ward. 
9: Sebastien Loeb, Peugeot 208 T16 - 44.6
It had been thought that Loeb and his Peugeot 208 T16 might be a threat for taking the outright record at FOS. In the end, it wasn't to be, but the World Rally Championship legend was still able to pilot the purpose-built, Pikes Peak-winning machine up the hill in an astonishingly quick time.
8: Anthony Reid, Williams FW07B - 44.58 
Ex-touring car ace and multiple Goodwood Shootout winner Reid and this Williams F1 car of the 1980s proved to be a hugely effective combination up the hill, with the best time set sticking around in the overall top 10 for years.  Powered by the famed Cosworth DFV V8, the FW07B helped Williams achieve both the Drivers' and Constructors' titles for the 1980 season. 
7: Justin Law, Jaguar XJR8/9 - 44.4
Justin Law of Don Law Racing is a regular fixture at the Goodwood Festival of Speed, usually seen hurtling past Goodwood house in a Silk Cut-branded Group C Jaguar. He's won the Shootout no less than six times, more than any other driver. It should come as no surprise, then, that Justin finds himself on our list twice, both times involving a Jaguar XJR8/9.
6. Peter Dumbreck, Nio EP9 - 44.32
The EP9 is a curious car, having precious little to do with the mass-market EVs Chinese brand Nio is more famous for. It was engineered in the UK by a small team to be a fast and enormously expensive headline-grabber.
And quick it certainly is. Best thought of as an all-electric LMP2 car, the EP9 is the former holder of the fastest electric Nurburgring lap time, and until the Volkswagen ID.R came along (more on that soon), the quickest EV at FOS.
5: Justin Law, Jaguar XJR8/9 - 44.19
Law's second run here, and another using an XJR8. Set in 2013, it's still well worth watching all the way through thanks to some extremely quick driving, plus an incredible 7.0-litre V12 soundtrack from the XJR8/9.
4. Romain Dumas, Volkswagen ID.R - 43.86
Volkswagen's first Goodwood outing in its ID.R might not have yielded an outright record, but Romain Dumas - who'd steered the car to victory at Pikes Peak only weeks before - still managed to take the car up the hill far faster than any other fully-electric vehicle in FOS history. Meanwhile, he beat all other cars regardless of powertrain type in the Shootout, but not without drama - a violent snap of oversteer on one run nearly pitched the ID.R into Goodwood's hay bales. 
3: Graeme Wight Jr, Gould-Cosworth GR51 - 42.95
Put a double British Hill Climb champion in a car made especially for the sport, and you have the ideal pairing for a fast time at Goodwood Estate. Graeme Wright Jr.'s time in 2003 was good enough to win the Shootout, but still some way off what was then the outright record holder. This leads us neatly to our next entry. 
2: Nick Heidfeld, McLaren-Mercedes MP4/13 - 41.6
Then a young test driver for McLaren-Mercedes, Heidfeld spent several years in the late 90s topping Goodwood's Shootout in various screaming, V10-powered F1 cars from the team. In 1999 aboard the MP4/13 McLaren used to secure the 1998 Drivers' and Constructors' titles, the German thundered up Goodwood Hill faster than ever, setting a record that would stand for the best part of two decades. 
Granted, the banning of timed F1 runs on safety grounds helped the record's longevity, but that shouldn't take away from what was a stunning bit of driving from Heidfeld. 
1. Romain Dumas, Volkswagen ID.R - 39.90
A year after winning the Shootout, Dumas and the ID.R returned, with Volkswagen's sights firmly set on Heidfeld's then near-20-year-old record. Dumas delivered the goods and then did so again. In the end, Dumas' fastest time was four seconds clear of his personal best from the previous year. The question is, will this record stand as long as Heidfeld's? 
The event will be held 23 – 26 June this summer and only a few tickets remain for Thursday and Friday. Tickets and packages can be found at goodwood.com/FOS.