Ask Goodwin - What gadgets fitted to modern cars do you think are unnecessary?
Goodwin reckons car tech could take away our freedom of choice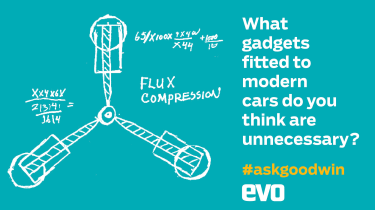 What gadgets fitted to modern cars do you think are unnecessary? Simon Bell, Sydney, Australia
Almost all of them. Actually, it depends on the type of car. If it's a sports car then the answer is virtually everything. All you need in a sports car is a steering wheel, throttle pedal, brake and clutch pedals, and a gearlever. A few years ago I booked a Cayman R for the weekend of the wedding of William and Kate. I reckoned that everyone would be inside watching the ceremony and that the roads would be relatively clear of traffic (we went to Yorkshire and they were). I'd booked a car with no air-conditioning, no radio and a manual gearbox. Porsche rang me at the last minute to say that unfortunately this car wasn't available and would a loaded R with a PDK gearbox be ok? In fact, they'd given Nick Trott 'my' car for weekend because then, as now, he's higher up the pecking order than me.
It turned out that I was quite thankful for the air-conditioning and the radio and would probably not buy a car without those things. I wouldn't bother with sat-nav because the app I have on my iPhone works perfectly, was cheap, and it doesn't matter if it goes out of date.
On more luxurious day-to-day cars heated seats in a convertible are nice. Auto-dimming headlamps are useful and so are rain-sensing wipers. All forms of infotainment are evil and too big a distraction. I prophesy that one day a significant accident (like ploughing into a bus stop) caused by someone fiddling on an app and not looking out the windscreen will force a re-think on distracting technology.
Other really worrying arrivals are systems like Ford's automatic speed limiting device that drops your speed below 30mph when you're in that zone. I don't speed in towns, besides you can override the system, but it will give the safety lobby more ammunition with which to take away our freedom of choice and personal responsibility for our actions.
Ask Goodwin is a weekly column on evo.co.uk by Colin Goodwin, one of the UK's most popular motoring journalists – and one of the early contributors to evo magazine. 
You'd like Colin – he drove an amphibious vehicle across the English channel (it caught fire half way) and he held the Guinness World Record for the highest speed in reverse (104 mph in a Light Car Company Rocket). More recently he drove from England to the Geneva motor show… in a Caterham 160.
Oh, and when he visits the evo office he does so in a plane that he built in his shed…
Check back every Wednesday lunchtime for a new column, and get involved with #askgoodwin either at @askgoodwin (Colin's Twitter) or @evomagazine. 
Make sure to get involved in the Ask Goodwin debate on our Facebook page here. You can also put your vote in via the poll system found on the evo.co.uk homepage