Ask Goodwin - What's the longest you've gone without driving and how bad was the cold turkey?
Only a driving ban and Asian trekking can keep Goodwin away from the wheel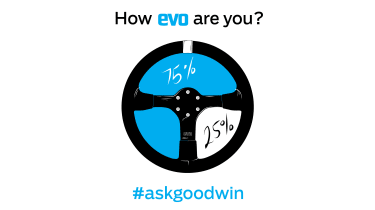 What's the longest you've gone without driving and how bad was the cold turkey? Alan Thorne, Reading
Not very long, especially if we can cheat and include riding in the question. The longest enforced time away from wheel and handlebars was two weeks while I was banned from driving. How times have changed. A friend was not long ago banned for 15 months, fined two grand and fired from his job for doing 127mph in a 60mph limit. My bust was over 20 years ago and I was driving a W124 300-24. The old bill spotted me on the A3 at Hindhead and followed me at 120mph until they pulled me over at Wisley. What really hacked them off was that my right arm was in plaster (I'd broken my wrist in a bike accident the week before). Anyway, the editor (I was at Car at the time) was very sympathetic and wrote a brilliant letter to the court telling them that without my skills the magazine and entire company would fold. Different times.
But back to your question. Most holidays when my sprog was small were driving and camping holidays but she's since been grown up we've gone further afield and done trekking in Nepal and the Inca trail. Great holidays, but no driving or riding. Worse than that, travelling in the back of a Toyota Hiace minivan is often involved which is worse than not being in a vehicle at all. I've vowed to never go in one again. This Christmas were going to Kerala in Southern India and I've already organised a car to drive. And when we're there I will attempt to hire a motorbike. Preferably a Royal Enfield. 
Any day away from an internal combustion engine is a day wasted. If it can't be a car then it can be a bike. And if it's neither then it can be a plane. A perfect day is the combination of all three and I make damned sure that that's not too rare an occasion.
Ask Goodwin is a weekly column on evo.co.uk by Colin Goodwin, one of the UK's most popular motoring journalists – and one of the early contributors to evo magazine. 
You'd like Colin – he drove an amphibious vehicle across the English channel (it caught fire half way) and he held the Guinness World Record for the highest speed in reverse (104 mph in a Light Car Company Rocket). More recently he drove from England to the Geneva motor show… in a Caterham 160.
Oh, and when he visits the evo office he does so in a plane that he built in his shed…
Check back every Wednesday lunchtime for a new column, and get involved with #askgoodwin either at @askgoodwin (Colin's Twitter) or @evomagazine. 
Make sure to get involved in the Ask Goodwin debate on our Facebook page here. You can also put your vote in via the poll system found on the evo.co.uk homepage