Aston Martin DBS
The Daddy of sound systems, excellent track performance and decent customer service from Aston Martin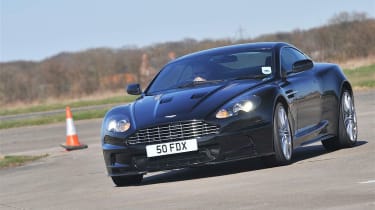 I don't know what it is about music systems in supercars, but they often seem to be an afterthought. Can't think why. Take the LP640's set-up for example. Twist the key in the ignition and I'll guarantee some god-awful track by KC and the Sunshine Band will deafen onlookers for the few seconds it takes for the mute button to appear on the touchscreen. Needless to say, any credibility has been ruined by then. So I'm pleased to say the Aston's unit is a bit simpler, helping to avoid such embarrassing moments. This being a later DBS it is also blessed with the all-singing, all-dancing Bose system, which really is the daddy of sound systems.
Maybe not having Harry Wayne Casey and his pals doing their bit to spoil the DBS's image has helped, but I've been amazed by the almost universally positive attention the car has received over the last six months. I've heard everything from 'sick car, man!' to 'what a truly splendid machine'. In fact there's been just one negative response, which, somewhat unexpectedly, came from a fellow Aston Martin owner. And this is an enigma. Feeding the DBS at the pumps the other week, I nodded at a DB9 owner doing the same. The look I got back is what I'd expect had I run off with the bloke's wife. Is there a secret club I haven't joined or a badge that should be displayed? Answers on a postcard, please.
50 FDX had its baptism of fire at Prodrive's proving ground near Kenilworth recently, spending a full six hours hammering around the soaking two-mile circuit with only brief stops for fuel. 510bhp through the rear wheels in the wet always makes for entertaining behaviour, but the DBS performed exceptionally well all day.
Tipping the scales at around 1700kg, you might expect it to be a touch heavy on tyres and brakes – and it is. After the day on track the brake pads needed to be replaced, and since the driver's door had also worked itself out of alignment I reckoned a short trip back home to Gaydon for a works service was called for. Needless to say, the DBS came back with every minor point addressed, and a valet thrown in for good measure. At £1220 it was pretty reasonable, especially considering that the eye-wateringly expensive pads on both axles were changed. I also got to have a nosey around the company's production lines while I was there. Top marks to Aston for customer service.
Running Costs
| | |
| --- | --- |
| Date acquired | January 2009 |
| Total mileage | 7789 |
| Costs this month | £1220 (service) |
| Mileage this month | 1011 |
| MPG this month | 12.2 |