Aston Martin deal finalised
A deal giving Aston Martin £150m of investment has been completed and Rapide S Hydrogen racer completes its first lap of the Ring.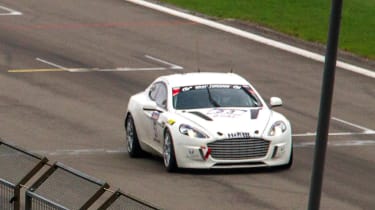 Aston Martin has confirmed that the company's recent partnership with investors Investindustrial, has now been finalised – securing a £150m cash injection for future product development.
The deal was announced at the end of last year, following rumours that the company could be on the market. The £150m will support Aston's £500m five-year product plan, which is needed to move the Aston Martin range forward, and up-to-date, with possible tie-ins with other manufacturers.
News of the successful deal comes just days after company director Dr Ulrich Bez completed a successful test of Aston's upcoming Hydrogen-powered Nurburgring 24 racer.
The Rapide S race car is fitted with a hybrid powertrain, developed by technical partners Alset Global, which successfully completed a zero-emission lap of the Nordschleife running on pure hydrogen. The plan is to race the car, and complete a number of laps on pure hydrogen.
Following the announcement, Aston Martin also confirmed that production would remain at Gaydon.