Audi A1 quattro snow drifting
Watch the new baby Audi showing off its stable handling on a snow-covered track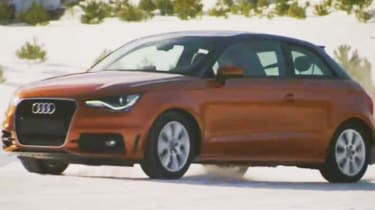 Four wheel drive is not something you usually associate with small hatchbacks, but when you have as good a 4x4 record as Audi, why not extend it to your full range?
The A1 reaps the benefits of the latest Audi quattro technology, which was recently seen on the TT and the TT-RS. This increases its traction substantially and delivers the output from 1.4-litre engine directly to all four wheels, giving drivers more confidence than in the regular front-wheel-drive version.
Aimed at buyers who want maximum traction in all conditions, the A1 is at ease on tarmac as it is on snow, making it a strong contender for the title of ultimate all-weather hot hatch. 
It will be available in the UK next year and will coincide with the launch of the new Audi S1 quattro flagship.