2015 Audi A4 to get e-Quattro four-wheel drive
New tech could preview future hybrid four-wheel drive and wireless charging RS models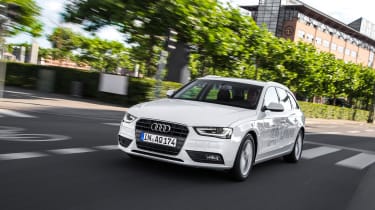 The 2015 Audi A4 will be offered with hybrid four-wheel drive when it goes on sale this summer. Utilising three power units – a combustion engine and two electric motors - the new drivetrain layout has been named e-Quattro and will be available on both saloon and Avant A4s.
In range topping spec an output of over 400bhp is expected, comprised of a 292bhp combustion engine, 54bhp electric motor contained within the transmission itself, and 116bhp electric motor driving the rear wheels.
>Read - Audi A4 review
When cruising at a constant pace, just the front wheels will be driven by the combustion engine, while urban driving can make sole use of the rear-axle's electric motor. When full performance and grip is required, the system can then offer maximum propulsion in all-wheel drive.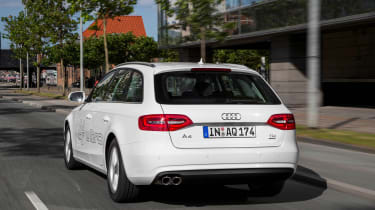 The current A4 (pictured) has sold well in turbodiesel guise
e-Quattro will help to significantly improve efficiency whilst also boosting performance, although the hefty weight penalty of batteries will likely affect handling – we certainly thought so after driving the plug-in hybrid Audi A3 e-tron. 
The news for e-Quattro comes just after Audi confirmed it'll avoid using hybrid power in its RS models due to weight. However, with increasing pressure to reduce emissions, it seems it's only a matter of time before technology developed in these non-RS hybrid models – including hybrid torque vectoring – will trickle across to Audi's high performance arm. 
>Read – Audi RS range to avoid hybrid power, for now
Following the 2015 A4 will be the TTQ coupe-crossover, which will be available with e-Quattro when it arrives in 2017. It'll also be the first model to introduce wireless charging, enabling plugless charging via magnetic coupling. This tech is expected to be rolled out across the hybrid range in following models, ultimately making it to future RS models.