Audi R8 e-tron confirmed: 0-60mph in 3.9 seconds from all electric supercar
New addition to the R8 family waves goodbye to V10 in favour of electricity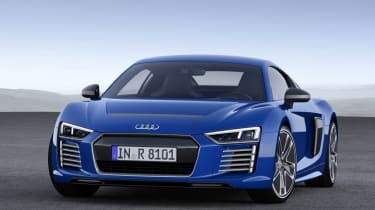 The Audi R8 e-tron has now been unveiled as part of the brand new R8 range. Waving goodbye to the petrol powerplant found in the new R8 and R8 V10 Plus, the car instead boasts a fully electric setup.
The R8 e-tron is capable of 0-60mph in just 3.9 seconds thanks to a pair of rear-axle mounted motors that combined generate 456bhp and 920Nm of torque.
Alongside this impressive power figure is a 276 mile range, with a two-hour charging time if fast charge points are used. Described by Audi as intended to help create an electric sedan, it's clearly a test bed for what could become a Model S rival.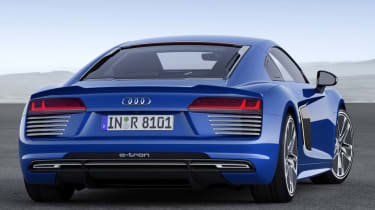 The car, which appears predominantly the same as the new 2015 R8, does feature a few unique styling queues. R8 e-tron models will have a blacked out front grille, a bonnet scoop and different front facing LED daytime running lights.
Unlike the previous R8 e-tron project, this car will make it onto the order books. Release dates are still TBC, but Audi has promised customers will be able to order a car by late 2015.
Interestingly, the new e-tron's project target in order to go on sale to the public was a minimum 250 mile maximum range. Aside from the Tesla Model S, high range electric cars are still few and far between.
We've already spent some time with the new R8 and it's shaping up to be a very exciting car indeed. Audi is clearly using it to show off the best of what it's capable of technologically, expect more of the e-tron tech used here to filter down into the rest of the range over the coming years.