Project Veyrog 2: Audi TT
The parts for our TT-based mini Veyron have arrived, and the work is now under way. Here's how we're going to get it up to 300bhp – and that's just for starters…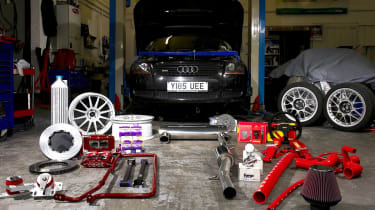 I'm as excited as a kid at Christmas. Trouble is, all my presents are being opened 200 miles away and I won't be able to go and play with my new toys for another couple of weeks or so.
Last month we delivered the tired, unfulfilling 2001 Audi TT that we 'won' on eBay to Autograph's workshops in Burnley with a plan to turn it into something a little more explosive. The ultimate aim is to introduce 500bhp to the TT's chassis, but to begin with we're starting with 300 and an equal amount of torque. Along the way we'll also be upgrading the wheels, tyres, suspension, clutch and brakes, so this is no quick chip job.
That said, we could have started with a chip. Autograph's £500 'Stage One' upgrade gives you that and a new air filter, which together lift the 225bhp TT's output by a useful 30bhp. A cat-back exhaust for a further £600 will take the total to 275bhp, but to lay the groundwork for the much bigger figures we've got planned for the future, we've decided to jump straight in at Stage Three, and that's a lot more serious. It begins with the same intake filter but ends with a grand's worth of custom-made, tig-welded Milltek exhaust system. In between there are boost control valves, actuators, 470cc injectors, a Bosch fuel regulator, an intercooler, NGK plugs and a whole host of hoses. All essential if we want to press on past 300bhp in the coming months without blowing our TT to bits. We also needed a new, stronger clutch and the only one that's up to the job is from Sachs (the original was on its last legs anyway). All of which brings the bill so far to £2995.
We'll be getting our hands dirty later on, but we know our limits and when it comes to engines it pays to get the experts in. Autograph specialise in performance upgrades and are also the UK importers and service centre for the Gumpert Apollo, so when it came to choosing a partner to work with on this project they quickly floated to the top of the list, even though they are not exactly local to our Northamptonshire base.
When I dropped the TT off last month, Autograph's Andrew Ward and I agreed that it would be worth lightening the car too. We didn't want to destroy it, so the rule was that we should be able to refit anything we took out and that the Veyrog should remain relatively habitable as a road car. It'd be all too easy to just rip the lot out, but it'd look untidy and probably give me a headache halfway down the M6. It should have the finish of an R26.R rather than a race car, we reckoned. So the rear seats have come out, as has the sound deadening material, but the carpets have gone back in as they don't weigh a lot anyway. The bottom half of the dash, which you can't see, has also been removed, and the front seats are about to be replaced by a tasty pair of Recaro Pole Positions with Momo harnesses. Of course, we could stick with the standard seats and cut a chunk off our expenditure, but the Recaros are lighter, and if the R26.R has buckets…
So, we've already spent a lot – way more than we'd planned – but as with any building project it's far better to get the foundations right than try and bodge it later. We'll save money by upgrading the brakes ourselves, along with new wheels and tyres – there's no point in us making the car faster in a straight line if it still stops and corners with all the effectiveness of a trifle.
As you can see, all the parts we need to get the project off the ground have arrived, so now I'm just having to be patient while Autograph work their magic. But I can't wait to head north, get stuck into the brakes and then get over to the Beford Autodrome to see just how many seconds we can knock off the shoddy time of 1:35.4 our little Audi managed fresh from eBay. The new TT RS has laid down an impressive 1:27.1 marker and I love a challenge…