Audi TT LED Matrix Beam demonstrated on video
See how Audi's innovative LED Matrix Beam lights work in this new video
We've seen Audi's complex LED lights on countless demonstration cars, but we haven't had the chance to see how they really work. 
Confirming they're far more than just for show, the ultra-bright LED lights in this video not only improve illumination, but also reduce the chances of dazzling oncoming drivers.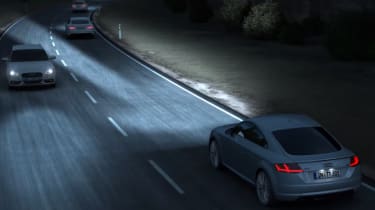 Other systems are in place on other cars that automatically lower the main beam or even dim it entirely when oncoming traffic is spotted, but Audi's system goes one step further by moving the light beam to avoid the passing traffic. Clever.
It's not cheap however, because in Germany you'd have to add over 2000 euros (£1500+) to have the LED system fitted to you car. But as demonstrated, it could prove very useful and substantially improve safety.
Watch the video above to see for yourself how the system works on Audi's latest TT. How long do you think it'll be before this technology is rolled out on all road cars?