'It's time the established fast-car makers gave us all something to look forward to.'
Dickie questions whether the established manufacturers are doing enough to adapt to the future of sports cars...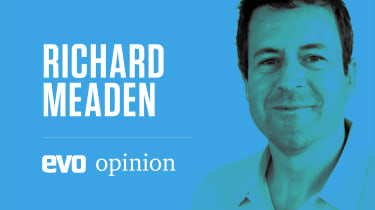 In these increasingly 'connected' times, the notion of filling a big metal shed with new cars and expecting the world to come seems bewilderingly out of step. Thankfully, actually being able to touch, smell, sit in and step back to admire hundreds of new cars ensures reality remains infinitely preferable to vicarious virtual viewing.
And so the 88th Geneva motor show. Of course, by the time you read this column it will be a distant memory, those glossy show stand images scattered across forgotten areas of Twitter and Instagram like windblown confetti the day after a wedding.
Motor shows always remind me I'm not a proper journalist. That's to say, I've never been a worker bee gathering news, or the publishing grandee who spends their show striding from stand to stand to talk knowingly about market share and platforms with a car boss in a suit.
On the infrequent occasions I attend a motor show it's the vibe I feel when I walk in the huge show hall that's the more telling barometer. This year's show was confident. Not brimming with the swagger of some years, but focused and impressive. Inevitably, electrification was front and centre, with a smattering of hybrids for good measure. It felt like the big players had committed to a coherent next-gen plan. We've been right to be sceptical about electric cars, but now that battery technology has become fit for purpose, automotive engineers and designers are able to do what they do best: creating advanced, credible, capable and desirable cars that move the game on.
> Click here for our look ahead at 2018's most exiting new performance cars
Jaguar Land Rover's colossal PR and marketing effort propelled the I-Pace into our consciousness well before the Geneva show. I've yet to drive it, but from what I saw at Geneva, it deserves to be the model that finally gives Jaguar a true identity and sense of purpose. It's head and shoulders above the rest of the range looks-wise, and the technology pushes it to the forefront, rather than perennially being two steps behind Ze Germans. This is Jaguar's Big Opportunity. I hope it manages to run with it.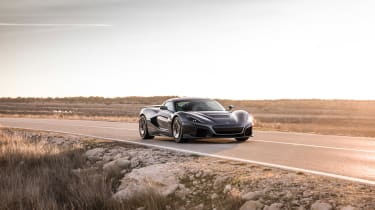 Continuing the electric theme, an undoubted star was the Lagonda Vision Concept. Yes, it's wild in the best tradition of show cars, but it's far more than a fantastical dream. Settling into the Lagonda, I was childishly excited at the idea of travelling in it rather than actually driving it, and never gave the lack of a piston engine a second thought. Given its objective and target customer, you'd have to say AML absolutely nailed it. It's ironic that the pace of technological change seems slowest in the fastest echelon of all: the supercar. It's a breed Geneva has always championed, and true to form, this year's exhibition floors were littered with gratuitously quick, powerful, explicit-looking machines.
Park a Ferrari 488 Pista or Porsche's Gen 2 991 GT3 RS outside my house and I'd be all over either of them. But in an environment where there was a very obvious revolution going on in the wider industry, cars that I have long held dear as my own pinnacles of piston-engined performance suddenly seemed predictable, fractional and possibly somewhat pointless evolutions.
And the hypercars? At one end of the scale you had the Bugatti Chiron Sport – a lighter (though still lardy), firmer, sharper and more expensive manifestation of the billionaire's favourite behemoth. At the other you had Aston Martin's Valkyrie AMR Pro – the limited-edition-of-25, 1000kg/1100bhp/1000+kg of downforce, track-only version of Aston and Adrian Newey's insane road car. The colour scheme did it no favours, but the elegance of its extraordinary aerodynamics made a certain other high-downforce British hypercar look like it was built by bricklayers.
The Valkyrie will surely be the zenith of petrol-engined hypercars, but Rimac's C Two made the rest look like dinosaurs: 1888bhp, 0-62mph in sub-1.9sec, 0-100 in just over 4sec, 258mph top speed, 400-mile range and claimed Level 4 (essentially driverless) autonomy. That Rimac is a highly credible, cutting-edge doer, makes this car not just mind-blowing, but believable.
My love of the internal combustion engine is instinctive and, I suspect, eternal, but even I'm becoming frustrated at the time it's taking for cars like 911s, M4s and even hot hatchbacks to have their Rimac moment. We passed the beginning of the end for petrol-powered performance cars years ago. Geneva 2018 gave us the first concrete signs electric cars have progressed beyond the end of the beginning, but the incumbent high performance marques seem stubbornly behind the curve. We know the boffins in Stuttgart, Maranello, Gaydon, Woking, Munich and Tokyo are working on solutions, but the pace of change is dizzying. I'm tired of feeling disengaged from the future. Time the established fast-car makers gave us all something to look forward to.