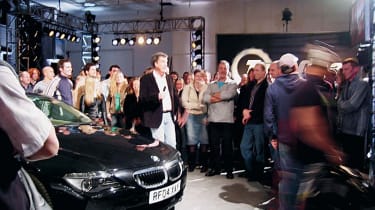 I was having some time off from my day job as Script Ed on Top Gear telly when news broke that we were re-recording a batch of studio links for an American re-package of the show. Short notice but could I come in and write some words? Oh yeah, and do I know where to get a 6-series to use as a prop? Erm... Nipping up to the evo office to nick Harry's 645i wouldn't simply fill a gap on our studio floor. It would also be an excuse for me to learn about a car I've never driven.
And first impressions are, frankly, jerky. This car has a really funny clutch that makes every medium-pace up-change a head- nodding irritation. I got so annoyed with it that I started thinking the car would be better as an auto. But if you let the car take care of gearchanging that would make it more of a cruiser and that in turn would expose the serious failings of the ride. This dynamic shortfall is joined by the steering, which seems to get inexplicably quicker at a point in the rack where you don't need or want it, making for a festival of driving irritation.
It's not all bad news, though, because the 4.4-litre V8 is a gem, drowning you in torque and a cracking Bryn Terfel bellow every time you clog it. In many cars, an engine of this quality and character would smother other failings yet in the 6-series it's not enough.
Later I took it for a thrash around Surrey and discovered that, at maximum attack, it's much more fun. But if you want a BMW coupe that really comes alive when you cane it, why not save a few quid and buy an M3?
Surely this car should be more the lounge lizard, the car that feels good even at lower speed? All the time I was driving the 645i I kept seeing Jaguar XKs, looking at the driver and thinking, I bet they're having a nicer time than me.
Running Costs
| | |
| --- | --- |
| Date acquired | May 2004 |
| Total mileage | 23,646 |
| Costs this month | £0 |
| Mileage this month | 5623 |
| MPG this month | 19.4 |