Servicing for the T350 isn't cheap, but you won't be surprised to learn that a full service history is vital. In fact in this case we'd go even further and recommend that you discuss the car at great length with not just the previous owner(s) but also the dealership that has serviced the car. That way you'll get the complete history and you'll be able to reach a fully informed opinion before purchase.
Through the life of the T350 there were a number of small improvements that, though not vital, make living with the car easier. These changes include the addition of sunvisors (early examples didn't have them), a recess in the body to make opening the rear hatch easier, a similar recess for the glovebox lid for the same reason, and additional brackets for the rear diffuser to reduce flexing at three-figure speeds.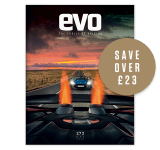 Subscribe to evo magazine
Subscribe today to have every issue of evo delivered straight to you. You'll SAVE 39% on the shop price, and get evo for its original cover price for a whole year!
EngineYou may have heard a few horror stories about the Speed Six motor, but fret not. Its biggest fault – premature wear to the followers that control the valves – was resolved before the T350 came to be. However, you should still listen carefully for any noticeably tappety noises when the engine is warm (they all tend to make a noise from cold), as this could signify that the valve clearances are out. They are checked at every 12,000-mile service and it's not a major hassle to put right, but it can damage the camshafts if neglected or if the engine is over-revved by a clumsy downshift.
Any problems that do occur usually happen in the first 20,000 miles, and it's also true to say that the build quality of a 2005 engine is likely to be better than a 2003 one. If the worst happens, TVR Power offers fully rebuilt exchange engines with a two-year unlimited mileage warranty.
You should always allow the oil to warm to at least 70 degrees before extending the engine, even though it can take up to 15 miles to reach this temperature. With this in mind, it's worth checking how the seller treats the car on the test drive.
Oil consumption is high – a litre can be consumed in 2000 miles – so you'll need to top up on a regular basis. While you're doing this, check the coolant too. If the engine's regularly running hot there is a mod that dealers can make to the expansion tank. If the radiator fan fails it's likely to be due to an oxidised connector. Finally, the engine can go out of tune because each cylinder has its own throttle-body requiring careful balancing. An unsteady idle and inconsistent power delivery will be symptomatic of the balancing being out.
Bodywork/interiorThe front end suffers from stonechips so it's not uncommon for cars to have front-end resprays. Some fastidious owners do this annually.
Panel fit should be pretty much perfect. If it's not, chances are that the car has seen some unplanned off-road action.
Check underneath the car. If it's been on track and visited a gravel trap the chassis will be peppered with chips that could begin to rust. The only other parts that may show signs of rust are the windscreen wiper arms, which can be cheaply replaced.Water in one of the footwells could be the result of the doors dropping, but adjustment is a simple exercise. And if the chrome surround for the fuel filler falls off it's because it was stuck on with petrol-soluble glue…
Interiors wear well. The seat bolsters are the usually first to go but are cheap to repair or replace. On early cars there were examples of the seats fouling the roll-cage, but this should now have been resolved.
ElectricalSmall electrical gremlins are not uncommon, but these tend to be annoying rather than expensive or difficult to fix. A boot lid that refuses to open or sticking windows that make it difficult to open the door are classic examples, and more often than not these are caused by the encoders becoming damp and losing their programming. New encoders are only £15.
If the oil pressure gauge stops reading it's likely that the sender unit has failed. It's a known problem, but for obvious reasons it should be rectified immediately.
Clutch/gearboxOn average the AP Racing multi-plate clutches last around 15,000 miles – more if treated well, less if abused. Including labour charges they cost around a grand to replace. On the test drive, check to ensure the biting point isn't too close to the floor. Also examine the fluid level in front of the pedals and look under the car for leaks from the slave cylinder – if there's a problem, the gearbox will have to be removed to replace it. If you do find yourself having to do this you might as well fit a new clutch at the same time.
The BorgWarner gearbox is very tough, but it can baulk when selecting reverse. The simple way to avoid this is to select fifth gear first.
Fuel tankThere are no problems with the fuel tank other than that it can be tricky to get fuel into it! Open the filler carefully to avoid blowback and an eyeful of vapour, then pump the fuel in stages – it will 'click off' if you try to do it too quickly.
Some cars are better than others in this respect, but there are no real solutions to the problem other than going to the expense of having a Sagaris filler fitted.
PricesEarly T350s with low miles command around £17,500 privately; cars with higher than average miles will have price tags closer to £16K. The lowest price for a targa is around £19,000 privately or around £20,500 if you buy from a dealer. The most expensive T350s are the 2006 models with fewer than 3000 miles on the clock. Expect to pay around £33,000 for these.
Specifications
| | |
| --- | --- |
| Engine | In-line 6-cyl |
| Displacement | 3605cc |
| Cylinder block | Aluminium alloy, dry sump |
| Cylinder head | Aluminium alloy, dohc, four valves per cylinder |
| Max power | 350bhp @ 7200rpm |
| Max torque | 290lb ft @ 5500rpm |
| Transmission | Five-speed manual, rear-wheel drive |
| Suspension | Double wishbones, dampers, anti-roll bar (front and rear) |
| Brakes | Vented discs, 304mm front, 282mm rear |
| Wheels | 8 x 18in front and rear, al alloy |
| Tyres | 225/35 ZR18 front, 235/40 ZR18 rear, Toyo Proxes T1-S |
| Weight (kerb) | 1100kg |
| Power/weight | 323bhp/ton |
| 0-60mph | 4.4sec (claimed) |
| Max speed | 175mph (claimed) |
| Price (2003) | £38,500 (T350C) |
In This Article