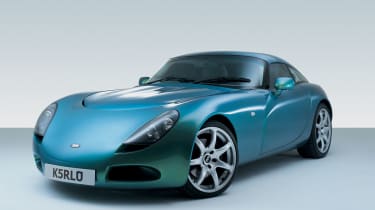 The suggestion that you should buy a second-hand TVR is always going to be a tad controversial. Play a game of word association down the pub and the axioms 'unreliable' and 'big bills' are the usual shouts. What's more, since the demise of the Blackpool company, the pessimists will throw in all the worries over warranties, spares supply and how all of this will affect residuals. Our advice is to ignore the doom-mongers and hit back with 'supercar-slaying performance' and 'outrageous value for money'. Think about it this way: twenty-five grand will buy you a safe but uninspiring low-mileage SLK200 from 2005, but it will also bag you a cared-for T350C with 350bhp on tap, head-swivelling design clout and a 10sec 0-100mph time.
Dig deeper and you discover that ownership doesn't have to degenerate into a pile of large bills and regular visits to the hard shoulder. Knowledge and experience are key, and you don't have to learn the hard way: there are clubs, websites and enthusiasts with a wealth of expertise out there. Put that way, a TVR suddenly becomes rather tempting again. All you have to do is heed the advice, buy wisely and look after your purchase. Then you'll discover that you don't just own a TVR, you've found a new way of life.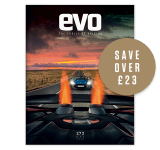 Subscribe to evo magazine
Subscribe today to have every issue of evo delivered straight to you. You'll SAVE 39% on the shop price, and get evo for its original cover price for a whole year!
Yes, TVRs are scary, but in the best possible way. And of all the models the company has produced, the T350 is right up there on our desirability list. Its compact dimensions (it's actually shorter than an MX-5) and coupe body endow it with race-car levels of structural stiffness and bullet-like efficiency of line. You know you're in for a no-nonsense, hardcore drive even before you summon the 3.6-litre straight six into life.
Like all TVRs, T350 residuals took a knock when the company hit the skids, but prices have now firmed up again and it's likely that the model's rarity (fewer than 300 were made) will keep values strong. So if you fancy a proper motoring adventure with a future classic, here's how to get started.
Evolution
The T350 arrived in the summer of 2003. Peter Wheeler was still in charge of TVR at the time, but the wolves weren't just knocking at the door, they were charging at it with a battering ram. When times are tight, most car companies focus on their current models, perhaps honing them for mass market appeal. But not TVR. Always as eccentric as it was British, it chose to extend the Tuscan/Tamora bloodline by unleashing a £38,500, glass-hatched GT while it worked away at further models in the form of the flared and slashed Sagaris and the supercharged, super-hairy 600bhp Typhon.
The new car came about because TVR decided it wanted to start a new race series to run alongside the long-established Tuscan Challenge. As the design of the new race car evolved, it became apparent that the shape – the result of many hours spent in MIRA's wind tunnel – would be highly viable as a road car, and the response to the T350C's Birmingham motor show unveiling confirmed that going down the road route could be lucrative.
By TVR standards, T350C isn't the most exciting name. The 'T' refers to the car's Tamora underpinnings and '350' to its power output, while the 'C' is shorthand for coupe. In 2004 the C was joined by the T350T – as in targa – which came with a pair of removable roof panels that could be stowed in the boot. It cost an extra £2000 over the standard car, which is arguably a bit pricey for a pair of holes in the roof, but the panels were very well made and, thanks to the beefy spaceframe chassis and integrated roll-cage, the T had exactly the same structural integrity as the C, meaning you could have the flexibility of wind-in-the-hair motoring with none of the usual drawbacks.
For regular trackday drivers or those who simply felt the standard T350 wasn't quite hardcore enough, there was also the option of a 'Red Rose' version. Around 30 of these were made, each costing in the region of £50,000 new – about the same as a Sagaris. Red Rose cars came with a blueprinted and uprated engine and a big-bore exhaust, enabling them to develop either 375bhp or 400bhp depending on tune. In addition to this, the suspension was more aggressive and fully adjustable, there were a number of gearbox ratio and diff options, and the 18-inch wheels came as standard – they had to be there to accommodate the massive AP brakes. There was even a lightweight vinylester body option. If you're looking for a Red Rose be careful, though. There have been a number of aftermarket companies offering 'Red Rose engine upgrades', but, obviously, the factory cars are the ones to go for.
TVR Car Club (buying and technical guidance), www.tvrcc.comTVR Power (parts, sales, service), www.tvrpower.co.ukThe TVR Shop (parts and accessories), www.racetechdirect.co.uk
In This Article