Cadillac CTS-V
Cadillac CTS-V sets 'Ring circuit alight with sub eight-min lap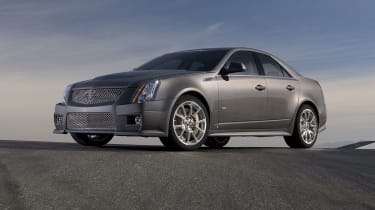 Cadillac's forthcoming 6.2-litre 550bhp CTS-V has lapped Germany's Nurburgring in 7:59.32, just ducking under the 8-min performance milestone for the circuit.
This blistering time appears to be the fastest ever publicly documented for a production saloon. To put the achievement in perspective, that's 13 seconds quicker than BMW's M5...
The car, a development of the company's CTS Sport, was piloted by GM development director and acclaimed racing driver, John Heinricy, and the company claims there were no performance modifications outside those planned for normal production.
Further performance and price details will be released soon.