Caparo T1 video at the Nurburgring
VIDEO: Phil Bennett drives a very fast lap of the Nurburgring's Nordschleife in the F1 car-like Caparo T1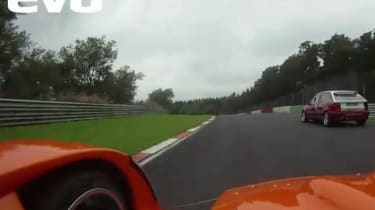 Like episodes from a soap opera, Nürburgring lap record attempts come around with almost unremitting regularity, with no likelihood of the storyline coming to an end anytime soon. It is, after all, the ultimate test of a sports car's mettle and resolve. Success writes headlines around the world, and the pluck, grit, nerve and naked courage involved in an attempt means there's always a story to tell.
In the past couple of years the big guns have beaten a path to the Green Hell and the times have been tumbling faster than ever. Yet each new record raises more questions than it answers. What constitutes a road-legal car? What do the times set by slick-shod cars prove? Why are we so fascinated by these figures anyway?
Perhaps we shouldn't call them records at all, because nothing about them is official and there are no rules. Bragging rights have never hindered showroom sales, though, so the fight for overall supremacy on the world's toughest racetrack will continue, and we will continue to watch with awe from the sidelines.
The elephant in the room is the Caparo T1. If any road-legal car has the potential to smash all of the existing road-car lap times out of sight, the T1 is it – and evo had a hand in getting one of Caparo's supercars to the Ring for a recent record attempt.
The story began back in January when I visited the Long Stratton Motor Company to check out a lightly used T1 for our 'Just Looking' section (evo issue 142). A couple of weeks later I was in America with an affable McLaren F1 owner called Dan Watkins, who had been considering buying a T1. When I mentioned there was an orange one for sale, he bought it – with the proviso that Caparo took it to the Ring before he shipped it Stateside.
So, one day in mid-August, Dan's car was delivered to the infamous 12.9-mile circuit to take part in a trackday for a shakedown and, if everything went well, a flying lap at the end of the afternoon. The target would be what most observers recognise as the current fastest time by a road-legal car: the 6min 48sec lap set by Michael Vergers in a Radical SR8LM (video of his lap here).
For all the latent ability possessed by the T1, you need a driver with the skill and nerve to extract it. Racing driver Phil Bennett was the obvious choice, for not only has he set records at the Nordschleife in the past (including a 6min 55sec lap in a Radical SR3 Turbo in 2005) but he also spent a year as a development driver with Caparo in the project's early days.
After an initial run, there was a problem: the 575bhp, 3.5-litre Menard V8 picked up a misfire, but not before recording an incredible opening half-lap on video. Playing it back, it looks like the regular flotsam of trackday traffic has slowed to a crawl. The Caparo disdainfully dismisses 911 GT3s and the like with closing speeds that are simply mind-blowing (video above).
Initially it looked like the problem was with the fuel, but it transpired to be a cracked coil pack, and by the time it had been replaced the heavens had opened, calling time on any further attempts.
It was a frustrating end to a day laced with so much promise, but then the Nürburgring does not give up fast lap times easily. However, the small glimpse of what is possible augurs well. Caparo will return, and when it does we expect to witness something exceptional.
Video of the Caparo T1 on the road is here