Alfa GT Q2
148bhp diesel coupe with self-locking differential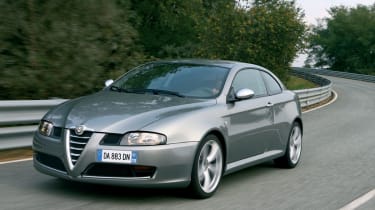 Those chaps at Alfa Romeo are a funny bunch. They fly us all the way out to their massive Ballocco test facility in Northern Italy for… wait for it… a 148bhp diesel with a Torsen diff. Yup, a new differential. That's it. Not that I'm complaining, you understand…
A Torsen (torque sensitive) type diff uses a system of planetary gears to distribute torque between the front wheels. If one wheel loses traction, then torque will be instantly redirected to the wheel with grip.
Labelled Q2 to go with the Q4 four-wheel-drive system, it is currently only available on the 148bhp JTDm versions of the 147 and GT, but it will subsequently be released on other models. Apart from the diff and some natty badging, the Q2 models also get special wheels (17in for the 147, 18in on the GT), a satin finish to the exterior trim and red stitching on the leather inside (why can only Italians make this look classy and not naff?). All for a reasonable £500-800 premium.
The diff doesn't have much unruliness to cope with in its initial home, but it worked well to keep the front hooked-up around the demandingly twisty test track. The transfer of torque was also smooth and the steering had no unseemly kickback. Even when I put one wheel through appreciable standing water the car retained an impressive equilibrium.
All in all, the Q2 is a good addition to the Alfa armoury. Just not quite worth flying all the way to Italy for.
Specifications
| | |
| --- | --- |
| Engine | In-line 4-cyl, 1910cc, t'diesel |
| Max power | 148bhp @ 4000rpm |
| Max torque | 225lb ft @ 2000rpm |
| 0-60 | 9.6sec (claimed) |
| Top speed | 130mph (claimed) |
| On sale | 2007 |