Goodwood to Mongolia in a Chevrolet Aveo
A team of drivers from the UK will be driving over 9000 miles to Ulaanbaatar, Mongolia in aid of a children's charity.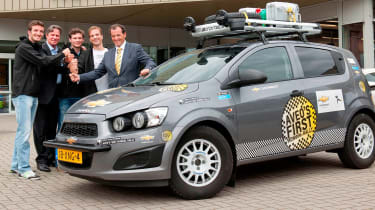 A team of three men embarked on an epic 9000-mile journey last weekend, starting from the Goodwood race circuit to Ulaanbaatar, Mongolia as part of the '10,000 mile Mongol Rally' event. The trip is in aid of charity, and runs east through Czech Republic, and from there on out teams choose their own route to the finish.
Guy White, Arnout Schepers and Ed Kliphuis have teamed up with Chevrolet, who supplied the 1.2-litre Aveo for the journey. The team will be traveling through Turkey, Armenia, Azerbaijan, Turkmenistan, Uzbekistan, Kazakhstan, Russia and ending in Mongolia – with many wonderful detours along the way.
Guy White, the team leader commented: 'We'll be facing many challenges along the way, but the fact none of us know how to fix a car is perhaps the most worrying. There's no backup, and we've been told Russian border guards are very scary.
'The main reason we're doing this adventure is that the team and I took part in the Mototaxi Junket three years ago, a rally from Peru to Paraguay in a Mototaxi – a less-pleasant alternative to the well-known Indian Rickshaw! We wanted to do something crazy in our lives for a good cause, but we just didn't make as much money as we'd hoped.
'This time, we hope to raise at least £10,000 for the SOS Children's Villages charity, and with Chevrolet's help donating the car, The little Aveo has been kitted out with under-floor protection, all-terrain tyres and everything you would need for such a great adventure.'
Follow the team's progress at www.facebook.com/Chevrolet.Charity.Rally or find out more about the charity at www.sos-childrensvillages.org