Chevrolet Corvette: Corvette's European woes
Chevrolet Corvette's aren't selling in Europe. Seems to be related to some pesky sports car from Stuttgart...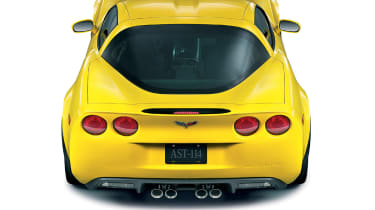 On paper it looks the bargain of the century, but at General Motors' European HQ in Zürich, mild frustration is setting in at the Corvette's seeming inability to make a sales impression across Europe.
The situation is nowhere near as bad as at Cadillac, where European sales have fallen far, far below targets. Cadillac was stuck at only 2500 units in Europe last year – just a quarter of its 10,000-a-year target for 2009-10.
The combined effect is for GM to be looking afresh at its relations with Kroymans Corporation, the Dutch group which it appointed as importer/distributor of both brands for the region. The biggest problem is in the UK, where Kroymans' own appointment of Pendragon as a distributor has hit strife over strategy. Insiders say GM is beginning to regret not doing the job itself in Europe.
Corvette's European sales last year were a record 1290, but that's not saying much – Porsche sold almost 20 times as many 911s in 2006, most of them at much higher prices than the Vette. Within the year, however, the Corvette should be even harder for European customers to resist. Power outputs are to be raised again, and there will be a number of mechanical and styling tweaks, plus a limited edition run of 250 cars created in homage to the Corvette's Le Mans victories.