Chevrolet Volt: Electric Special: Chevrolet Volt
Plug-in hybrid due on sale in 2010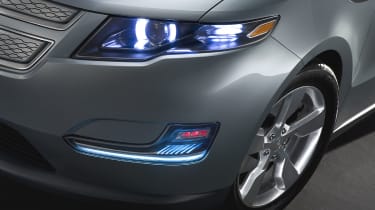 GM is further down the electric car route than BMW. We've already seen the Chevrolet Volt in concept form, but GM has now released teaser images of a production version, due to launch in 2010.
A plug-in hybrid, or 'extended-range electric vehicle' in GM-speak, it will be based on the same platform as the next Astra and will also be exported to Europe, where it will wear the Vauxhall or Opel badge. GM promises 'a family resemblance to the concept' and a 40-mile range on electricity alone following a seven-hour charge.
The Volt will also feature the 1.4-litre petrol engine from the Vauxhall Corsa to help boost the range, improve performance and power the generator that can also recharge the battery. Development engineer Alex Cattelan says it will reach 60mph in nine seconds and max out at 100mph.
Weight could be a problem, though, given the lithium-ion battery pack weighs 180kg, but it's mounted low and centrally for ideal weight distribution and a low centre of gravity.
Extra Info