Chrysler unveils 800bhp 'crate engine'
Chrysler has shown an 800bhp 8.4-litre V10 'crate engine' at the SEMA motor show in Las Vegas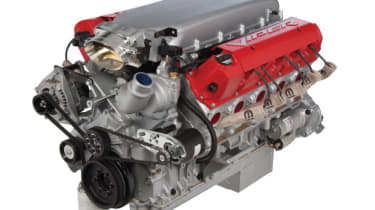 In a refreshing change from the trend to downsize engines, Mopar, Chrysler's tuning parts subsidiary, has unveiled an 8.4-litre V10 'crate engine' at the SEMA motor show in Las Vegas. 
The Competition Series V10 features an aluminium block and cylinder heads, a forged steel crankshaft and connecting rods, and forged aluminium pistons. It develops 800bhp and 695lb-ft, and revs to a maximum of 7000rpm.
The engine is specifically designed for drag racing, but Mopar has hinted that future applications could include road racing, and even a version designed for off-road use. 
Also showcased by Mopar was a 590bhp version of Chrysler's HEMI V8 known as the Gen III. Crated and ready to run out – providing you can find something to bolt it into, of course – it's 45kg lighter than the standard Hemi unit, due to its cast iron block being replaced with an aluminium one.
Unfortunately, the drag V10 is unlikely to make it into Chrysler's next iteration of the iconic Dodge Viper, which is currently in development. Buyers will most likely have to make do with a 600bhp 8.7-litre V10 for that one. 
The Viper (or SRT-10 as it's likely to be known if officially imported into the UK) will also come with a stability control system for the first time. Expect it to be launched in late 2012, with the first customer cars being delivered in early 2013.