It is not a car for the faint of heart, the all-new Elemental RP1. Designed, engineered and built by an eclectic but amiable collection of mavericks from the UK - some of whom are ex-McLaren, some ex-Ford - it is unlike any other road car that currently exists. If you have to put it in context of another product, it does bear more than a whiff of resemblance to a two-seater BAC Mono.
And now, finally, after a sometimes painful two-year gestation period, the RP1 is upon us – in full and finalised production form, complete with a beautifully finished carbon-fibre tub at its core. There's a 2.0-litre Ford Eco-boost engine in its tail that puts out 320bhp and a thumping 450Nm, a genuine fluids-and-all kerb weight of just 630kg, and the sort of performance that even supercar drivers will have nightmares about.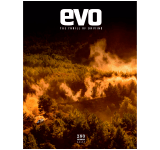 Subscribe to evo magazine
Subscribe today to have every issue of evo delivered straight to you. You'll SAVE 39% on the shop price, and get evo for its original cover price for a whole year!
How quick is it? As yet not even Elemental is exactly sure. So far, they've recorded a two-way 0-60mph run of 2.7sec with 0-100mph in less than seven seconds. But that was on a car that still needed its mapping to be perfected. In reality we are probably talking about sub 2.5sec to 60mph and not a lot more than six seconds to 100mph, with a top speed (who cares in a car like this anyway?) of around 165mph.
What matters far more than a series of acceleration numbers is, of course, the RP1's chassis, its driving position and, most of all, the way it drives.
The driving position was, in fact, the RP1's ground zero moment, because that's where the small but perfectly formed team of designers, engineers and ex-McLaren F1 team aerodynamicists began their quest to deliver 'the fastest track day car in the world by 2020'. Thus, you sit with your feet several inches above your backside, arms out stretched, with your back seemingly at an angle of around 45 degrees to the road. Much like you do in an F1 car.
And once they'd got that aspect of the car right, all the rest pretty much fell neatly into place, apparently, including a quite phenomenally efficient aero package that, on the road, will give the RP1 over 500kg of downforce.
In fully bewinged track-pack specification, Elemental reckons the car will generate a staggering 1200kg of downforce. And if that's fact rather than fiction, this will put the RP1 in a class of one aerodynamically; even a McLaren P1 generates "only" 650kg of downforce in its most be-winged Race setting, and it's not strictly road legal when in that mode anyway.
Tech highlights 
The RP1 has a full carbon composite tub at its core with steel sub-frames at either end. There are double wishbones and (adjustable) coil-over dampers by Nitron (springs by Eibach) at the front and a single seater-style gearbox mounted within the rear suspension at the back, again with double wishbones and adjustable coil-over dampers.
Its brakes are by Alcon, the gearbox itself is a six speed sequential by Hewland with pneumatic shifters, actuated by two small carbon-fibre paddles on either side of the steering wheel. The clutch pedal is needed only when pulling away or selecting reverse; once you're into first and rolling, no clutch is needed, up or down. Which makes the RP1 feel deeply single-seater like on the move.
At the front the RP1 has 17in forged alloy wheels with 215/45 17in track day tyres by Toyo. At the back there are 18in wheels with a 245/40 18in tyre.
Two version of the RP1 will be offered eventually – a 1.0-litre Ecoboost and this, the 2.0 litre.
> Ford Fiesta 1.0 Ecoboost review
Perhaps the most trick aspect of the RP1 is its aero package, which was designed originally by a team of ex-McLaren F1 engineers using the very latest computer technologies, and which is constantly being tweaked to give the car increasing amounts of downforce as its development evolves. The underbody of the RP1 looks like a work of art in itself, and the claims about the downforce it produces – together with near-perfect 50/50 balance front to rear in all configurations – are nothing short of extraordinary.
As photographed the RP1 has two small aero screens that mean you need to wear a crash helmet to drive it on the road. But there is a full single piece screen in development that will mean no lid is needed for road driving. The Elemental styling team claims the car looks "even better" with the full screen in place, but we'll need to see that one to believe it for ourselves. 
Engine, transmission and 0-60mph time
There are two engine options for the RP1, both Ford Ecoboost units, one of 1.0-litres, a second of 2.0-litres. Understandably the more potent 2.0-litre is the one that most, if not all interested customers are going for. It produces 320bhp in 2.0-litre form with 450Nm available from little more than 2000rpm. In 1.0-litre guise the RP1 develops 180bhp and 207lb/ft, which is still enough to fire it to 60mph in around 3.5sec and to a top speed beyond 140mph.
But it's the distinctly pokier 2.0-litre turbo that grabs the headlines and runs with them. With a genuine "with fluids" kerb weight of 630kg (or around 595kg "dry") the 2.0-litre RP1's power-to-weight ratio is a reasonably eye-watering 508bhp/tonne. In reality, though, it's the torque-to-weight figure of 527lb/ft/tonne that gives the best indication of all as to how rapid this car is.
As already stated, the gearbox is a sequential six-speed by Hewland with pneumatic actuators, and two small carbon paddle shifters either side of the steering wheel. No clutch is required once on the move, and the entire gearshift mechanism – though fully manual in practice – is operated by the main ECU so that the engine and gearbox are protected from erroneous shifts. It won't let you blow the engine to pieces by downshifting when you shouldn't basically. Which is nice.
What's it like to drive?
Bloody marvellous, quite frankly. The first thing that hooks you is the driving position. You climb in, realise that your feet are pretty much at eye level and think; hmmm, this is different; this is, in fact, very much like a single-seater in its overall feel, but with a lot more elbow room and a lovely clean view forwards of the road ahead.
To get the RP1 moving requires no great skill; you dip the clutch, give the engine some revs, then smoothly release the clutch and away you go, much like in a normal car. But once you're on the move, no clutch is needed. And everything else about the RP1 feels equally 'racing car' from that moment onwards.
The non-assisted steering is heavy-ish to begin with but fine above 10mph, and its immediacy of response and pure feel through the rim is delicious. It's one of those cars that you steer more with your brain than with your hands, yet there's no nasty kickback through the rim either. Which is some achievement on Elemental's behalf.
But then, to be honest, that's how the RP1 feels o the move, full stop. Everything it does provides either a mild or very strong sense of amazement. The acceleration is borderline ridiculous, and you can alter its severity by scrolling through a range of different engine maps; road 1, road 2, track, race 1 and race 2.
In road 1 the RP1 still feels nut-case fast but also quite reassuring inasmuch as the traction control comes in quite early, and the boost is wound down a bit to provide a more manageable flow of torque, and therefore thrust. And the madness goes up in a pleasingly sliding scale from there onwards, until eventually in Race 2 it feels like it wants to blow two small holes in the back of your scull with your eyeballs, pretty much from the moment you so much as breathe on the throttle.
> evo track evenings - book tickets here
Best thing is, though, it has the chassis to match. Boy does it have the chassis to match. And the brakes, and the steering, and the gear change.
At all speeds the RP1 feels beautifully balanced, with the front end displaying perhaps just a touch more bite than the rear. Yet at no speed does it ever feel edgy or spikey in its grip or handling. It floats across the ground in a way that only really well sorted cars do, and even when it lets go a bit at the back, it never does so in a 'now you see it, now you don't' kind of way. It's sharp but progressive in its handling at all times, so if you know what you're doing you can play with it without fear of getting bitten. Which, given how much aerodynamic grip it generates, makes the RP1 very special indeed, even beside the best of the best in this rarefied class.  
Price and rivals 
The RP1 isn't cheap at £90,900 before local VAT is applied, but then given the amount of technology it contains – not just the clever aero package but also a full carbon composite tub and a Hewland sequential gearbox – it was never going to be anything but.
Its rivals are few and far between and include the BAC Mono (which costs twice as much), Radicals of various shapes, sizes and prices, and the Ariel Atom 3.5R, which costs a little bit less but which also isn't quick as the RP1.
The first customer has already taken delivery of the first production RP1. And on this evidence there will be many more to come.