10 things you should know about evo's Anthony Davidson
F1 and Le Mans star Anthony Davidson has joined evo in our Track and Travel section. But first there's some things you should know...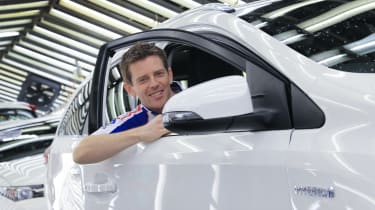 You may have noticed evo has recently gained input from a certain Anthony Davidson in our Michelin Track and Travel section. As one of the fastest drivers in the world, Ant's experience ranges from F1 and Le Mans to GT racing and even TV presenting. Ant's invaluable input to evo will help to put you in the cockpit of his World Endurance Championship campaign, a championship he is yet to win but one he currently sits at the very sharp end of.
So to introduce you to our newest recruit we've compiled a list of 10 things we think you should know about Anthony Davidson. Some you might have expected, but some you might have not…
1. Ant was a world-class winner before he'd sat his GCSEs
Having started karting aged eight, Ant impressed on track from the off. It was Aryton Senna's old arch rival, Terry Fullerton, who gave a young Brit his first big break in karting, which saw him go on to win three consecutive British championships between '93 and '95, before finishing second in the European Karting Championship by just one point. An impressive CV, especially for a 17 year old.
2. He was McLaren and Autosport's Young Driver of the Year in 2000
After devastating on the track as soon as he jumped into cars in '99, Ant won the highly respected Formula Ford Festival at Brands Hatch in 2000. This, along with a third place finish in the national championship, saw him grab the award for Young Driver of the Year. Other big names to win this award include his old karting rival Jenson Button, as well as David Coulthard and fellow evo contributor, Dario Franchitti.
3.    He didn't finish an F1 race until five seasons after his debut
Despite clearly possessing enough speed to warrant his place there, Ant wasn't able to land a full-time F1 drive until 2007. Having suffered two DNFs from two starts with Minardi in 2002, Ant was contracted as a test driver at BAR and Honda until 2006. It wasn't until '07 that he was able to land a drive at Super Aguri, but a struggling team and slow car meant he was never able to fully demonstrate his talent.
4.    His helmet design was inspired by Eddie Cheever
Ant's helmet borrows its design from ex-F1, CART and Indy racing driver, Eddie Cheever. Cheever's helmet used a star and exploding stripes to represent the Stars and Stripes of his US flag, but in Ant's design he changed the structure of colours to those of that on the Union Flag. He chose the design in his karting days with his graphic designer dad doing the customisation. The helmet design has remained largely unchanged since.
5. Ant was the reason for a Big Brother house eviction
Andrew Davidson, Ant's brother, appeared in the first ever series of Big Brother in the year 2000. He was evicted from the house when one of his fellow housemates explained they didn't want him to miss his brother's racing. Andrew had previously also raced karts with Ant, but after a heavy accident that saw him break his ankle, had chosen to end his racing career and mechanic for his younger brother.
6. Ant only follows back 0.02 per cent of his Twitter followers
With over 250,000 Twitter followers, Ant is one of the web's most popular racing drivers. He's great at engaging with his fans too, frequently tweeting over race weekends with pictures and inside info. Having said that, Ant only follows back about 0.02 per cent of his followers, showing he's clearly not a fan of #TeamFollowBack. That Twitter feed might get quite swamped with a quarter of a million twitterers though...
7. Ant's first race in sports cars was back in 2003
Though his F1 career saw him start in a back-of-the-grid Minardi, his sports car career saw him pilot an exotic Ferrari 550-GTS Maranello Le Mans GTS. That first 24 Hours race resulted in a DNF, but his recent sports car career has seen him race in the premiere Le Mans class, LMP1. He now races in the FIA World Endurance Championship with Toyota Racing, and is currently leading after winning two of the opening four rounds in 2014.
8. He broke his back in a 200mph Le Mans crash
Though he's enjoyed much success at Le Mans, Ant was unfortunate enough to break two vertebrae in his back after crashing into a Ferrari F458 GT at over 200mph. Approaching the hairpin at the end of the Mulsanne Straight, Davidson's 2012 Toyota TS030 was sent flying as he launched off the back of the Ferrari, his Toyota's LMP1 downforce levels creating more lift as the car rotated upside-down. Despite needing to be stretchered away, he has happily made a full recovery since.
9. Ant helped Mercedes AMG F1 to become F1's dominant force
He might not stand on the podium when they win races, but Ant has played a crucial role in Mercedes' recent F1 domination. As official simulator driver, Ant gets behind the wheel of a digital F1 car ahead of each race, helping to give the team a good idea of the optimum setup and strategies before a (real) wheel has even turned. With his extensive racing experience and strong knowledge of car setup, Ant is an integral part of the potential 2014 Championship winning team.
10. Ant is one of the busiest racing drivers in the world 
With his offices ranging from the racing cockpit, commentary box, TV studio, radio studio and most recently, behind his laptop on a word processor, Ant is one of the busiest racing drivers in the world. With such an extensive amount of on track experience and expert knowledge from behind the pitwall, we're proud to announce Ant as a new member of our team. He'll be contributing to our Track and Travel section, in association with Michelin, to give you an inside angle on his World Endurance Championship racing. He's a favourite for the championship this year too, so we hope he'll have plenty of great things to write about.