VW Golf GTI on Michelin winter tyres: report 7
Jon Birch considers how swapping summer rubber for Michelin's Pilot Alpins has affected his Golf's usability this winter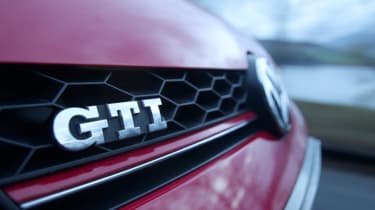 It seems that with every update I write I say something along the lines of 'we're now properly into winter,' but the cold days we've been having have been few and far between and the wintry spells haven't lasted more than a couple of days. Given that this is a winter tyre test, it's been quite frustrating.
When the snow fell over the Christmas Holidays it looked like the perfect opportunity to see how the Michelin Pilot Alpin tyres handled the conditions. Unfortunately however, I was away enjoying some mid-winter Canarian sun whilst my GTI was tucked up nice and warm inside a warehouse. When I returned home it was business as usual: double-digit temperatures with plenty of wind and rain to go with it.
The Golf GTI's Michelin Pilot Alpin 4s have covered thousands of miles since their autumn fitting
That being said, there's been a good dose of late nights and early mornings when the frost warning on the GTI has alerted me of the cold and slippery conditions outside. The biggest compliment I can give during these conditions is that the car has never felt anything but sure-footed and stable.
Thinking back to the OE fit summer tyres, I remember their wet weather performance as sometimes being quite alarming, even under small throttle openings. The way they performed did nothing for my confidence of grip, ruining what should have been enjoyable drives; the opposite of what tyres a moderately potent hatchback should do. In this respect, the Michelins have revealed a more accessible side of the GTI's all weather performance. I would love to try a Golf R with the Michelin winters on, I should imagine nothing this side of a winter tyre shod Audi RS6 would see which way it went on a cold, wet road!
Jon reckons a winter tyre'd Golf R would take some beating
Back to the GTI, my overall feelings are that the Michelin tyres add to the ownership experience of the car and make it more rounded and enjoyable to drive. Up until now I've changed cars quite frequently and never had the chance to try different brands of tyre on the same vehicle, and although I expected a difference in the dynamics I didn't quite expect it to be as marked as it has been. Yes, I know I've changed from harder compound summer tyres to softer cold weather tyres, but I can't help but think that VW should have explored some more options before settling on the brand they did.
I've read several comments from people on social media and various forums saying that we simply don't need winter tyres in the UK, that they are pointless. Having now tried them, my own view is that they really do provide so much more grip than sports summer tyres in anything less than six to seven degrees, gifting the driver with so much more confidence. With the condition of the roads worsening in the UK every year, any extra grip is very welcome indeed.
2015 is set to be an exciting year for Jon and his the GTI
2015 is set up to be a good motoring year for me with a European road trip planned in the summer, hopefully allowing me to visit some of the legendary motoring locations in France, Belgium and Germany along the way. In addition to that, I'm accompanying a good mate to a track day at Oulton Park later this month. It may well persuade me to take the GTI on track at some point, but maybe not on it's winter tyres!
I really would like to try these Michelin Pilot Alpins over a really cold snap, so I'm hoping that comes sooner rather than later.