Great drives: Gran Sasso D'Italia
Vast, open and surrounded by mountains, this dramatic location was the backdrop to an iconic evo photograph. Here's how to find it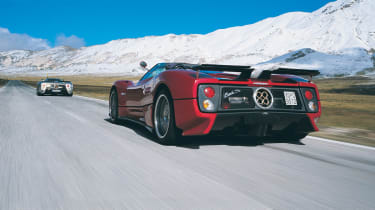 The very first issue of evo that I worked on was number 074 (December 2004) and in its pages was arguably one of the best photos the magazine has ever published: the two Zondas chasing each other towards snowy peaks in bright sunshine was the stuff dreams are made of. The cars were amazing, but the location was equally jaw-dropping. So when, some 45 issues later, I found myself in Pescara needing to get back to Maranello in a Ferrari 430 Scuderia, I knew which way I wanted to go…
You'll find Pescara on the east coast of Italy, about level with Rome, and from here you need to head inland towards Penne and then from there towards the village of Farindola just beyond San Quirico. After that you are looking for the SP8 -– follow the signs towards L'Aquila (where the earthquake happened in April 2009).
From here you will be on a rather broken and lumpy road travelling through dense deciduous woodland. Keep going. Eventually a succession of six hairpins will begin and then a little further on the trees will begin to recede and views will start to appear to your left. Eventually, just as you reach a big 90-degree left-hand bend, the plateau will open out in front of you with the road (still not in great condition) stretching out in a straight line across it.
It's a vast and barren landscape, but with the mountains of the Gran Sasso acting like a fortress around the edge, it has a dramatic roof-of-the-world feel to it. At a T-junction you could go either left or right and be presented with fabulous scenery and roads, but it's to the right (still towards L'Aquila) where the shot with the Zondas was taken. As I found in the Ferrari, some roads near here might have barriers across depending on what time of year you are visiting and how much snow is left, but the descent, whichever way you head from here, will be one to remember.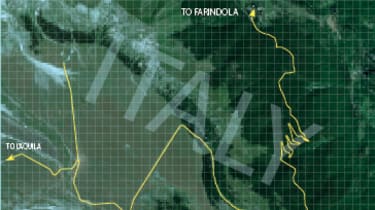 How to get there
If you want to drive your own car out to Italy then be warned that it is a very long way – it's 1000 miles from Calais to Pescara alone. However, the advantage of doing this is that you can make a real trip of it, taking in some Alpine passes and stopping off at Modena along the way. There are also some excellent tunnels on the coastal motorway heading from Rimini down to Pescara. The dreaded Ryanair does fly directly to Pescara from Stansted five times a week, but there are obviously many more flight options if you decide to go to Rome and hire a car from there.
Where to stay
There are numerous options in either Pescara or l'Aquila, but if you want to stay closer to the roads of the Gran Sasso then you could try the Hotel Rigopiano. It is remote and we can't verify its four-star rating from experience, but it is ideally situated on the road up from Farindola. 
What to watch out for
If you've got the time then you might like to try to retrace the old road circuit at Pescara. It was the longest ever Grand Prix circuit, with one lap stretching out a massive 16 miles. The last race held there was in 1961 and was won, to the great joy of the home crowd, by Bandini in a Ferrari. See evo 119 and the excellent book The Last Road Race by Richard Williams for more information.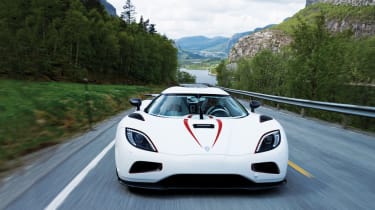 Michelin recommends
For such a dramatic backdrop, you need an equally extreme car. The Koenigsegg Agera R is one of the wildest cars you can currently buy, and would feel right at home on the wide-open flowing sections of the Gran Sasso d'Italia. The Agera R has a claimed top speed of 273mph, but thanks to the latest Michelin Pilot Super Sport tyres it's also highly controllable, and should make light work of the beautiful landscape. 
Koenigsegg worked closely with Michelin to ensure the Super Sport is perfectly matched to the Agera R's demanding needs. Thanks to Michelin's hugely successful motorsports activities, including 15 consecutive wins at the Le Mans 24 Hours, the Super Sport tyres really have benefitted a huge amount. Not only do they provide excellent grip and balance in dry or wet conditions, the Super Sports are also very durable thanks to the use of dual tyre compounds – extending the useable life of these high-performance tyres.