VW Golf GTI on Michelin winter tyres: final report
Jon signs off by answering the question: is it really worth running winter tyres?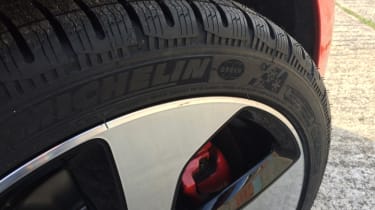 So here we are, the final report in this winter tyre test and a summary of my findings over the past few months. This was a subjective test and from the outset I really wanted to answer the question; do we really need winter tyres in the UK?
The Michelin Pilot Alpin 4 tyres were fitted to my MK7 Golf GTI back in November, replacing the OE fit summer sports tyres. The test was particularly interesting to me as those OE fit tyres are widely regarded amongst MK7 owners (GTI and GTD alike) as being rather terrible, especially in wet conditions. I was really intrigued to see how the dynamics of the car would change with a different style of tyre.
Since the tyres were fitted I've covered around 5000 miles in all kinds of different conditions so I feel I can now deliver my verdict.
>Read - VW Golf GTI on Michelin winter tyres: report 11
Back in November we were experiencing much higher temperatures than normal for that time of year, still around 12-14 degrees centigrade. Given the winters (or 'cold weather tyres') are designed to operate at temperatures below six to seven degrees, I thought it might have been a little too early for the test to begin. I thought they would have little to no grip and introduce some vagueness to the car. 
As I mentioned back in an early report, I was very pleasantly surprised to find the opposite. The tyres instantly offered less road noise, an even more pliant ride and a perceived greater connection to the road surface.
Fast forward a few weeks to January and the temperatures plummeted at long last meaning regular deicing of the car in the mornings was required. This brought cold, greasy tarmac and the chance for the Michelin Pilot Alpins to really prove their worth.
They didn't disappoint, finding grip that just shouldn't have been there – as demonstrated to me by ten winters' worth of driving experience. Of course, a different driving style is required to make the most of the grip as clumsy inputs overcome traction quite easily.
I found the biggest limitation of the tyres was trying to change direction quickly, they don't have the bite that sports summer tyres do and need a little time to 'smudge' and react to steering input. Smooth driving at six to seven tenths seems to be the optimum way to make progress in cold/wet conditions. 
Driving at this pace also seems to suit the personality of the GTI too, especially my car which isn't fitted with VW's optional Performance Pack. It might sound strange reading that as a petrolhead but bear with me… If I had to choose a car solely for track work, I'd have a Caterham or an Ariel Atom for the raw, pure driving thrill. If I had to choose a GT car for crossing continents, an Aston Martin Vanquish with its creamy V12, eight-Speed automatic gearbox and supple suspension would be the weapon I'd choose. 
I need a car that can cover miles in comfort as I often travel several hundreds of miles a day in my line of work, I need a reasonably practical car that is big enough to transport my guitars and amplifiers for my duties in a band, and I need something which is quick and entertaining enough to keep me satisfied on local B-roads.
If I wanted the best handling hot-hatch I'd have bought a RenaultSport Megane 265 Trophy, but I needed the best all rounder, so I bought a Golf GTI with a DSG gearbox. I've covered nearly 13,000 miles in the 11 months I've owned the car and it has integrated perfectly into my life, so much so that I can't think of anything that I would want to replace it with when the time arrives. Other than a Golf R Estate. 
Back to the tyres… Other than their slight reluctance to respond to fast direction changes, I haven't found a single downside to the Michelin Winters. The car was serviced last week and VW reported that there is still an equal 7mm tread depth on all corners, meaning that despite being a softer compound, the rubber is resisting wear nicely.
I have only driven in snowy conditions for a handful of miles during this test, but the performance of the car was quite incredible. In really slippery conditions there was never once a suggestion that I might have got stuck. Purely in the interests of conducting a proper test I performed some 'emergency stop' maneuvers from the national speed limit, and the braking performance was scarcely believable in such conditions.
In fact, it was the most impressive aspect of performance the winter tyres brought to the car.
Coming back to the question I asked at the beginning: do we really need winter tyres in the UK? Obviously, it depends on the area you live and the type of driving you do, but I can confirm that if you live in somewhere like West Lancashire (where winters often include sprinklings of snow and icy mornings), do many miles around the country in all kinds of conditions, then the extra level of safety the tyres bring is too great to ignore. The answer to the question is therefore is a resounding yes.
That concludes Jon's Michelin Pilot Alpin winter test. If you want to read earlier reports, visit our My evo Year page.