VW Golf GTI on Michelin winter tyres: report 11
Jon gets to sample a lower-spec Golf GT, and admits he's still impressed with the Michelin Pilot Alpins' braking performance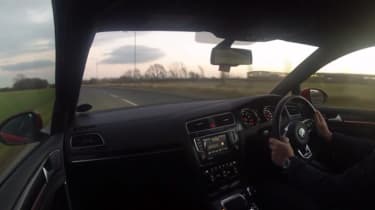 Last week I mentioned that my car was due to spend time at the Volkswagen dealer for some work. The car had developed a couple of electrical faults, the first being a faulty driver's door lock and second being interior lights that just didn't want to switch off. Off to VW it was to see if they could fix the issue.
>Read - VW Golf GTI on Michelin winter tyres: report 10
I dropped the car off at Liverpool VW on Monday morning to allow them to carry out the work. As a precaution, they had asked for a full working week with the car. I'd booked a courtesy car and expected one of the smaller VW models, possibly an Up! or a Polo, but I was pleasantly surprised to be handed the keys to a MK7 Golf in mid-range GT specification. Having never been in any other MK7 Golf, I saw it as a great opportunity to see what the GTI offers over and above the standard car.
The car was a 2-litre TDI Bluemotion diesel with the seven-Speed DSG gearbox. Both parts of the powertrain felt very smooth, providing ample torque and seamless shifts that were ideal for the dreary 25-mile commute back to the office from Liverpool. I couldn't find any fault with the other dynamics of the car.
Looking at it in the context of what it is – a middle of the road efficient family hatchback – VW have got it spot on. The ride on its passive dampers and 17-inch alloys was pretty good too, a touch firmer than the Comfort mode in my GTI with its adaptive dampers but still pretty acceptable, and well controlled.
Luckily the VW dealer traced the fault on my car to the locking mechanism in the drivers door so only required 2 days with it, and immediately upon getting back into its drivers seat on Tuesday evening, it was clear that the GTI rides with a lot more sophistication than the standard car.
All of the major controls are much more eager and the six-speed dry-clutch DSG is much snappier and sportier to use than the seven-speed in lower spec cars. VW has been very clever in setting its specification for each car, and it was enjoyable to test them back-to-back. Both are great, maybe not the most exciting on offer, but brilliant every day propositions. 
Anyway, back onto my car. Mornings of late have required us to de-ice our cars, but up in the area of West Lancashire where I live we haven't seen too much snow. By all accounts I wouldn't have had to travel very far to find some, but mileage has been lower than usual this week. That said, at -2 degrees C, there's a constant risk of black ice, so I've been sure to remain careful with driving inputs.
The Michelin Pilot Alpin tyres continue to impress in the cold conditions, offering brilliant grip and not too much slip. Of course, there is some loss of traction if I'm a bit heavy with my right hoof, but that's to be expected with the grease, salt and grit covering the roads at this time of year. I'm still not sold on the ability to change direction quickly, but in the winter that doesn't bother me too much as I think I naturally drive a touch more cautiously than I would during the warmer months.
I've said before, the most impressive change in the dynamic behaviour of the car with the Michelin Pilot Alpins fitted is under braking. They seem to muster grip where it just shouldn't be available given the surface conditions.
The next report will be my final of this series, and although we're still a few weeks away from the temperatures raising enough to justify the change back to the summer tyres, I'll be offering a conclusion and summary to the test.