VW Golf GTI on Michelin winter tyres: report 10
Will a near miss affect Jon's opinions of his Michelin Pilot Alpins?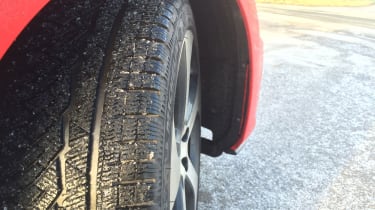 I haven't done many miles in my GTI this week as I've spent most of my time based in the office, which is only three miles from my house. Not only that, the weather has been a little milder than it was last week, meaning I haven't got anything new to reveal about the performance of the Michelin Pilot Alpin winter tyres. However, there is one thing to mention…
During a late night cross-country journey at the weekend I pitched into a second gear, right hand bend expecting the car to follow my chosen line the way it always has, but instead it understeered quite alarmingly and headed for the kerb. An instinctive lift off the throttle brought the rear into play, and by quickly reapplying the power I managed to avoid a nasty concrete-diamond cut alloy wheel encounter!
I certainly wasn't travelling quick enough to find the limits of grip, or so I thought. I've checked the tyre pressures and everything is in order (33psi all round) so I can only assume I got on the power a little too early or found some slippery tarmac.
>Read - VW Golf GTI on Michelin winter tyres: report 9
Staying with that train of thought, I accompanied a good friend to a Track Day at Oulton Park on Saturday. He has a 2-year old, well set up Caterham Supersport R and asked if I fancied being a passenger for his first track outing of 2015. I've never done any circuit work myself and before doing so I wanted to see how it all worked so I agreed.
It was a nippy 4 degrees in the morning and the track was damp so the car was lively on its small sports tyres, its healthy 360bhp per ton output breaking traction under small throttle openings. The real eye-opener for me was that as the track warmed and dried out throughout the day, the difference in the way the car reacted was astonishing. You could be much more aggressive under acceleration, getting on the power earlier out of corners.
The biggest difference however was under braking, where the car resisted locking up even when trying to shed a lot of speed at the end of Hill Top straight before Hislops chicane. My friend said you can lean on the car a lot more in the dry compared with the wet, such is the increase in levels of grip.
Applying the same thinking to the road, the change in surface conditions has a massive bearing on the performance of a vehicle and the only connection we have is the contact patches of tyres. The smallest changes make big differences to things like braking distances so having appropriate rubber fitted at different times of the year really does make sense. It is also worth paying extra attention to tyre condition and pressures to make sure they perform as expected.
This week saw evo 206 drop through the letterbox. Given that the magazine's film-maker, Sam Riley, is running pretty much the same car and has recently fitted a different brand of winter tyres, his Fast Fleet report was the first port of call as soon as I could remove the outer packaging. I've really enjoyed reading Sam's thoughts on his GTI and comparing his notes to mine, in particular his thoughts this month regarding his slight loss of confidence in the car on winters compared with the OE fit sports summer tyres.
My thoughts with the Michelin tyres have been the exact opposite – apart from the near-miss explained above – in that they have increased my confidence in the car, certainly in wet or cold conditions.
In a way, I'm almost looking forward to having those summer tyres refitted just to see if they really were as poor as I remember. I'll do just that around March time but for now, I'm still enjoying testing the Michelin Winters.