VW Golf GTI on Michelin winter tyres: report 9
The snow is falling, so naturally Jon's out testing his Michelin Pilot Alpins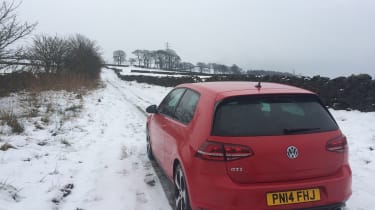 The first few months of the year also seem to be the worst for weather, and this year doesn't seem to be any different. That said, it's nowhere near as bad as it was back in 2010…
I was driving back home from Liverpool on Friday 17th December. A couple of hours earlier I was playing my guitar on stage in a dingy pub, oblivious to what was going on outside: snow was falling, properly falling.
>Read - VW Golf GTI on winter Michelin winter tyres: report 8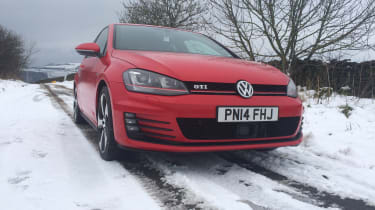 At the time I had a MK5 Golf GTI and its standard sports summer tyres didn't stand a chance. It was the only time I've driven in blizzard-like conditions and I remember thinking there was a good chance I'd be sleeping in the car that night. I managed to get two thirds of the way home but as soon as I turned off the motorways I was beached, along with many other people.
There was only one thing for it: abandon the car at the side of the road and walk 6-miles back to my house, at 2am in the morning, with my beloved guitar in hand. Luckily, a friend with a Range Rover came the rescue the next day to tow me out.
Fast forward back to earlier this week when I was on business in the market town of Glossop, the snow was coming down and I started thinking back to that night, wondering if I might face a similar scenario with my two-hour drive home.
This time though, since I had my Michelin winter tyres, I was almost hoping for that kind of challenge! It never did get that bad but it was still the first experience of driving through snow with a distinct possibility of getting stuck since this test started. 
You will see from some of the pictures that the road was quite tricky, but the Golf handled it brilliantly. I expected to get a bit stuck at some points but not once did the grip subside.
The car still sometimes scrabbles for grip whilst accelerating from a standstill if I'm being a bit clumsy - the particularly sensitive pedals in the GTI don't help - but I suppose 258ft lb of torque pushing through the front wheels will always cause issues when the surface is slippy.
Conversely, braking performance is the most impressive dynamic change the winter tyres have brought. Even on a snow-covered road, the car slows at a scarcely believable rate. The sipes in the tyres really do act as suckers, very impressive. Once more, I've been very impressed with the performance of the Michelin winters.
Next week, I have to give the car back to the VW dealer for a week to see if they can track down a minor electrical issue. When it's in, I'll be using one of their courtesy cars.
I asked the dealer if I could borrow their 'R' demonstrator for the week but they weren't too happy about that, so I'll probably be in an Up! or something equally as small. It's a slight shame as it's quite possible I'll want to upgrade to an 'R' at some stage, so I thought they might have been a little more proactive in trying to sell me one. 
Jon will be back next week to report on his first track day at Oulton Park, where he was able to ride shotgun in a friend's Caterham Supersport R.