The 2015 Formula 1 season is nearly upon us. Race one takes place in Australia on 15 March, so in the build up to the opening round we thought we'd list 10 important features for the new year.
From rule changes to teams returning from the dead, 2015 has already proven to be unpredictable. Just wait until those turbocharged V6s fire up in Oz…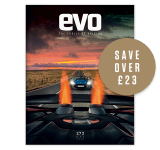 Subscribe to evo magazine
Subscribe today to have every issue of evo delivered straight to you. You'll SAVE 39% on the shop price, and get evo for its original cover price for a whole year!
Weight changes
F1's rules have a habit of changing year on year, and 2015 is no different. A key change to the rulebook relates to weight. Maximum weight was raised to 701kg when powerplants changed from V8 hybrids to turbo-hybrid V6s, but drivers often found keeping within these weight limits tough.
Rumours began to circulate suggesting drivers were passing out during training, while some said others were bordering on starving themselves to meet limits. Thankfully, the FIA has listened and responded with change.
The thing is, it's not really that big. Adding 1kg to the 2014 minimum weight, cars and drivers combined have to weigh no less than 702kg this year. While it might help, we're sure a few drivers won't be able to swap the salad diet for burgers just yet.
Engine limits
In an effort to push teams into developing more efficient and reliable engines, the amount teams are allowed to use across the season has shrunk from five to four.
Let's just think about that for one moment; high performance, highly complex hybrid turbocharged V6 engines, producing in excess of 750bhp and capable of revving to 15,000rpm, have to compete in no less than five races each.
Rewind back just 15 years and – significantly less complex - powertrains would have just one race to worry about. It's amazing that the 2014 cars were so reliable given the fact their V6s were all-new, so to think each will be able to race for close to 1000-miles each is impressive. 
We just hope the new rule doesn't lead to more 'lifting and coasting' and dulled engine modes to prolong life. It's a far cry from the days of 20,000rpm.
Double points
We do love Bernie and his crazy rules sometimes, but not when they can actually damage the sport's credentials. His double points final round idea was enforced in 2014, but thankfully had no effect on the Championship's outcome.
Even though the F1 community sighed a sound of relief, the FIA was more than aware of the negative reaction the rule had. It's listened, and responded by removing the rule. Phew. 
We've even gotten away with having the post-safety car standing starts rule abolished. Teams feared their cars' clutches would suffer in a multiple start race, and drivers feared their hard won race positions could be lost in an instant thanks to a bad restart. 
2015 sees the post-safety car rolling-start rule continue, confirming the FIA isn't completely transfixed on creating a 'show,' but rather still encourages good old fashioned, fair competition.
Safety
F1 has come on leaps and bounds since the last fatal accident on a Grand Prix weekend. Aryton Senna's fateful race crash happened close to 21 years ago, but the sport hasn't been completely injury proof.
Rising star Jules Bianchi suffered a horrible crash in the second half of 2014, colliding with a recovery tractor and suffering serious head injuries. The young Frenchman is still unconscious in hospital more than six months on.
In an attempt to improve safety for drivers' heads, regulations have been changed that stipulate the Zylon anti-intrusion panels on both sides of the survival cell must be higher. The changes are small, but could help in preventing another horror smash like Bianchi's.
Manor
Marussia has returned from the dead thanks to Graeme Lowdon and John Booth, who have worked to resurrect the team under the new name of Manor. The name isn't new to motorsport, having been used in F1 feeder series for years. But it marks the name's first turn on the F1 start sheet.
The team's 2015 car is far from finished, so it'll be running an updated version of last year's MR03 for the opening rounds. The 2015 car is expected to be cleared for racing later in the year. 
Manor has signed Briton Will Stevens as its first driver, with the second yet to be confirmed. The Formula Renault 3.5 Series graduate isn't completely new to F1; he made his first F1 race start at 2014's final round in Abu Dhabi.
Alonso out
Fernando Alonso's new stint at McLaren isn't exactly off to the perfect start. As if things couldn't get much worse than an off the pace car, he's confirmed to miss the opening round in Melbourne thanks to suffering heavy concussion during pre-season testing. 
The reason for his injury is still largely unknown, but it appears that a gust of wind caused him to lose the rear of the car, firing him into a wall. Though the impact initially appeared relatively light – the car was largely intact – doctors confirmed that the two time champ forgot he was an F1 driver and thought he was racing in karts immediately after the impact.
Thankfully, Alonso's memory has apparently returned, but on doctor's advice the Spaniard will sit out of race one. McLaren's 2014 driver Kevin Magnussen will fill his seat.
Young drivers
Max Verstappen is 17-years old. He'll still be 17 when the lights go green in Melbourne (his 18th birthday isn't until September 30), making him the youngest driver ever to start a Grand Prix. 
Is he ready? Given that the current breed of F1 cars are labelled as easier to drive than their naturally aspirated predecessors, there's no reason to suggest he isn't physically prepared. 
His success through the ranks from karts to cars also suggests he won't lack pace, but we'll have to wait until round one before we know if that pace will translate into results, and not Maldonado-esque launches into turn one. 
In an attempt to prevent drivers of younger ages from piloting F1 cars, the FIA has now upped the age limit that a Super Licence – the level required to race in F1 – can be received. Drivers will now have to be over 18 before they can get one. As a result, Verstappen will be the first and last 17-year old F1 driver.
Engine development
Ferrari isn't known for being tight-lipped during tough times, and its difficult 2014 season was no different. Teams utilising power from both Ferrari and Renault engines appeared to be at a significant disadvantage compared with the ever-dominant Mercedes V6 hybrid unit.
After much campaigning, both Renault and Ferrari have been allowed to develop their power units in order to bridge the gap and close up competition. Honda's brand new unit will also be free from the development freeze in 2015, allowing the Japanese engine builder to play catch up.
The idea is that each engine will produce a similar amount of horsepower, making for closer racing. Whether Ferrari, Renault and Honda's latest development will help them catch Mercedes remains to be seen. Early testing signs suggest teams with Merc power will still hold the advantage.
New noses
2014 might be remembered for many things, but to some, it'll always be remembered as the year of phallic noses. Hurrah, they're gone for 2015. Almost. 
Aside from a couple of suggestive tips, the 2015 field wears much cleaner, better-looking nose cones. As usual, cars further down the field have adopted aerodynamic designs similar to those found on last year's strongest cars. Mercedes may have been dominant through 2014, but its new W06 features significant changes. 
McLaren Honda
McLaren Honda is back. The partnership last took part in F1 way back in 1992, and has returned with hopes of repeating its turbo-era dominance. But now the nostalgia has faded and laptimes dominate headlines, things aren't looking to cosy in Woking.
>Read - McLaren Honda: an iconic partnership
Alonso's out for race one, but even when he returns it seems unlikely that the McLaren Honda MP4-30 will be challenging for wins. 
Perhaps we should give McLaren more time, the engine is brand new after all. But with 2009 champ Jenson Button teaming up with Alonso, the team has one of the strongest line-ups on the grid. Can the car be developed to offer them with the performance they need?