With the 2014 Formula 1 season over and Lewis Hamilton crowned World Champion once again, it is time to look forward and see what is in store for 2015.
Possibly the most anticipated arrival for next season is the renewed partnership of McLaren-Honda, hoping to recreate the magic that was so prevalent during the 1988-92 seasons. What was it that made the mix of Honda engine and McLaren chassis so effective, and why was the racing so exciting?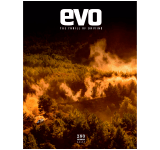 Subscribe to evo magazine
Subscribe today to have every issue of evo delivered straight to you. You'll SAVE 39% on the shop price, and get evo for its original cover price for a whole year!
Senna and Prost, infamous and ubiquitous. Four consecutive constructors' titles ('88-'91) and drivers' championships between them, with Aryton Senna scoring a triple ('88,'90,'91) and Alain Prost with one ('89). Although, some of the titles were decided under notoriously controversial circumstances at the championship's penultimate race of Suzuka, Japan.
The McLaren MP4/4 in 1988 would become one of the most prominent and successful Formula 1 cars to ever grace the starting grid, it won all but one race that year and only missed pole once. The MP4/4 used a 1.5-litre V6 Honda turbo that was capable of an astonishing 900bhp, shoehorned into a car that weighed only 540kg. Performance was explosive, with the MP4/4 over three seconds faster around Imola than the next team's car. Power-to-weight worked out to be an astonishing 1667bhp per ton, making the recent McLaren P1 hypercar with 'only' 623bhp per ton look childish.
The famed Brazilian driver Artyon Senna would pilot (at Prost's request) the MP4/4 to his first world championship in his first season with the team, capturing pole 13 times and taking the top step of the podium a total of eight. Alain Prost, the McLaren veteran, went on to win seven rounds but this left him three points shy of Senna who clinched the title in a rainy Suzuka. At the end of the season the domineering MP4/4s had notched up so many points that they were only two behind the combined total of every other team.
The 1989 season saw turbo engines banned from Formula 1, McLaren-Honda switched to a 3.5-litre V10 with 'only' 685bhp. The supremacy continued but not to the extent of '88, Senna posted more wins (6-4) but Prost would take the championship with a 16 point lead. Race 15 in Japan would become an infamous example of their fierce rivalry when Prost 'closed the door' on Senna heading into the chicane. Both car's stalled in the gravel trap but Senna was freed by the marshalls and continued. He was later disqualified for missing the chicane during his altercation with Prost, Senna felt he was unduly treated during the matter and would continue to voice his concern years later.
Alain Prost left to Ferrari in 1990 while Senna remained at McLaren. Senna again bested Prost by winning six races to five, but it came down to Japan for another controversial Grand Prix. Senna secured pole but was on the 'dirty' side of the track, therefore giving the grip advantage to Prost in the Ferrari. Once the race began Senna went for a supposed gap at the first corner, while Prost held his racing line. This caused both car's wings to collide sending them spinning into the gravel and sealing the world championship in Senna's favour by nine points.
Senna would go on to clinch his fourth and final world championship in 1991 after Nigel Mansell's mistake on lap 10 of the Japanese Grand Prix at Suzuka. Nigel Mansell would get his own back by going on to dominate the championship in 1992, with Senna only able to clinch 3 victories.
During the recent post-season test in Abu Dhabi, recurring electrical problems have plagued the team, resulting in only five complete laps over the two days. Worse still, none of the laps were at full racing speed. While the test may appear a failure, vast amounts of important data have been gathered by the team concerning the power unit, electronics and the car itself. It is important to recognise that this is a very early test, often riddled with issues. Red Bull-Renault suffered similar issues during pre-season testing for 2014 but were able to be competitive.
It remains unclear what kind of season is on the cards and whether McLaren-Honda can make a triumphant return to form. What we can hope for though, is a return to some of the racing that made that iconic era of Formula 1 so exciting.
Watch McLaren-Honda's introduction video below