Col de Vence, France: Ultimate Driving Destinations
We visit an old evo favourite, the technical D2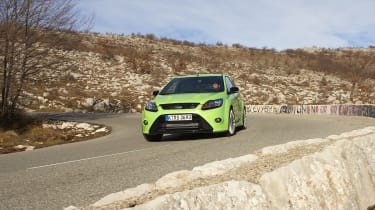 Start point: 43.72466, 7.10699 (Avenue Henri Giraud, Vence)
The route: D2 from Vence
Distance: 32 miles
Time: 1 hour
Great for: Peugeot RCZ R
Whenever a car is launched anywhere near Nice, we usually head straight for the D2, regardless of any routes the manufacturer has planned. One of my very first launches for evo (an Impreza) was on this road, and since then it has always felt a bit like coming home.
Finding the road can be a little tricky, especially if you're scouting it on Google Maps, but it is signposted once you're in the town of Vence. Upon reaching the confusing five-way triangle/crossroads (when you see it, you'll know), you want the road heading uphill with the buildings on the left.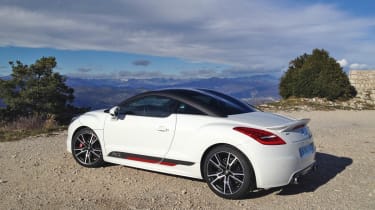 Road successfully located, the rest of the navigation couldn't be easier because you simply stay on the D2. This will initially lead you up through a slightly scrubby, rocky landscape on a road with some great graffiti-plastered hairpins. This is the Col de Vence itself and near the top there are wonderful views back towards the Med. From here the road gets faster, heading through trees then clinging to the edge of a valley with a big rock face on your left, before heading back into trees again. Eventually you pop out at a roundabout (take the first exit) and then head up towards Greolieres and on to arguably the most spectacular section. Once again, the road clings high up on the side of a valley, but this time the drop is on your left and it feels even more exposed as you drive through small tunnels and arches in the rock.
Beyond this the road is fast and flowing once more. You can turn right to a ski resort at a roundabout (see 'Watch out for', right) or simply carry on until a T-junction halts you in your tracks. Turn left or right here and you will inevitably pick up signs for Castellane and Dignes that will in turn lead you on to the N85, perhaps better known as the Route Napoleon (evo 161). Alternatively, you could simply perform an about-turn and complete the same route in the opposite direction, over which the drive is just as exhilarating.
Where to stay
If you're feeling flush, then try the Mas de Pierre. It's a lovely five-star hotel that occasionally gets used for car launches and is situated just below the historic hill town of Saint-Paul-de-Vence. Rooms are available from about £140 in the winter and £185 in the summer. If you'd rather be near the coast then there is a wealth of hotels to choose from in Nice, from where you can easily access other roads in the area, like the Col de Turini (evo 160).
What to watch out for
Follow the signs for Greolieres-les-Neiges and head up through the hairpins, as there's a viewing point on your left with the most amazing vista, overlooking the Alpes-Maritimes and Alpes-de-Haute-Provence. Take care through the rock arch section as the road narrows and you'll need to brake for oncoming traffic.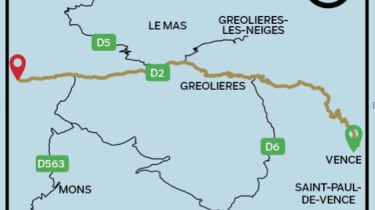 Michelin Recommends
To tackle the classis turns of Vence requires something that's both quick and agile. That's why Michelin has recommended Peugeot's excitable RCZ R for the job. Maximising the car's ability on road would be a set of Pilot Super Sport tyres. 
This tyre bridges the gap between daily road tyres and track rubber, with motorsport inspired dual compound technology making it perfect for a location that mixes heavy braking, aggressive acceleration and tight hairpins. 
Michelin Pilot Super Sports also feature variable tension aramid and nylon belts, helping to resist centrifugal growth, making for predictable handling at speed with even wear.
The result is good enough to stop Koenigsegg's mighty 1100bhp Agera R from 186mph in a record breaking 6.6sec, so when equipped to the 266bhp RCZ R, you can be sure grip is plentiful. And when you're tackling the technical twists and turns of the D2, so will be the breath-taking views.