VMax 200 Stealth: Racing a Morgan 3 Wheeler against a Porsche 918 Spyder
Which do you think wins?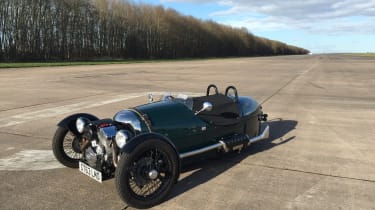 VMax events are all about seeing just how fast a supercar will go in a straight line. With the usual turnout consisting of the likes of Koenigseggs and McLarens, we thought it only fair to turn up in something that would represent a challenge: a Morgan 3 Wheeler.
Admittedly, it might not manage some of the 200mph+ top speeds we witnessed, but there aren't many things more frightening than topping 110mph in a three wheeled car.
Before we took on the 918 Spyder (more on that later), we needed to do a few test runs to get a feel for how the Morgan would behave when topped out. If you've ever been lucky enough to drive one, you'll know that a combination of unusual weight distribution and a grunty V-Twin motor make the 3 Wheeler a burnout machine.
That means plenty of wheelspin all the way up into third gear, which is then combined nicely with rather unnerving understeer on turn in thanks to skinny front tyres. A perfect recipe for attempting a 100mph+ run in the wet on a bumpy runway in Bruntingthorpe.
To say we were cautious on our first run would be an understatement. Rolling gradually through the gears, the Morgan actually proved fairly composed at very high speeds, had we attempted any sort of cornering however this would've likely been a different matter altogether.
As such, our second crack saw us pushing the Morgan all the way up to its rev limiter in fifth gear way before we reached the end of the runway. A 110mph top speed was reached comfortably before lifting off and slowing the car down safely.
What was most impressive with the Morgan was that it got up to that 110mph so quickly, leaving us with an interesting idea for a drag race.
Pestering a Porsche 918 Spyder owner at VMax, we bet that they couldn't stand outside the car, put their helmet on, start the 918 and still catch us before they ran out of runway.
The result was a rather predictable win for the Porsche, but only just. A 200mph+ flyby while sat half a meter from the ground in a 3 Wheeler was an incredible thing to witness and one of just a few moments that made for a thoroughly enjoyable day at VMax.
Other highlights at included a 930bhp Nissan GT-R very nearly beating a Bugatti Veyron. It's incredible what sort of performance the Nissan V6 can take, but these high state of tune GT-Rs never cease to impress.
Finally and perhaps the true highlight of the day, was riding onboard a LaFerrari down the runway. It felt strange getting back in the Morgan after that.
For those that are interested, you can find out everything about Vmax here, including dates and details of upcoming events.