Everything you need to know about the 2015 LMP1 cars
A quick breakdown of every manufacturer's entry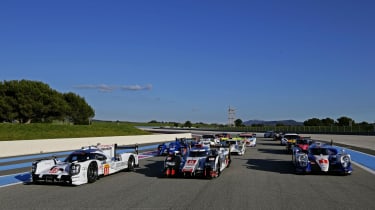 Silverstone hosts the first round of the World Endurance Championship on April 10-12. These are the main competitors to look out for in the Le Mans Prototype 1 class.
With several classes of car out on track at once, the fastest are reserved for the LMP1 group of vehicles. This year, Audi, Nissan and Porsche will attempt to follow Toyota's 2014 championship-winning lead. 
Only manufacturer teams are permitted to use hybrid vehicles, with the number of engines and tyres that a team can utilise per season and event restricted. Weighing in at a minimum of 870kg, the cars are designed to push the very limits of endurance vehicle design and are often used as a test bed for advanced technology destined for road cars in the future.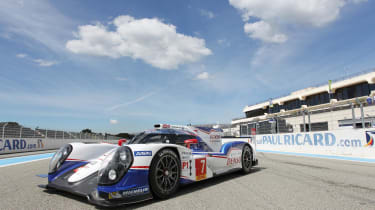 Toyota Racing – Toyota TS040 Hybrid
Last year's championship-winning car won five of eight races in the hands of ex-F1 drivers Anthony Davidson and Sebastian Buemi, earning them the drivers' title. Despite not winning the 24 Hours of Le Mans in June, the TS040 Hybrid has managed to disrupt Audi's long-held dominance of endurance events by becoming the first car campaigned by a Japanese team to win the World Championship.
Davidson and Buemi have been re-signed for 2015, with new start Kazuki Nakajima also sharing the #1 car's cockpit. The second TS040 will be campaigned by Stephané Sarrazin of WRC fame and Alex Wurz, who also has F1 experience.
Toyota's 2015 contender is a continuation of last year's model, using a 3.7-litre V8 to propel the driver within its carbonfibre composite bodywork. Toyota remains silent on the exact power figure produced by the TS040, but with the hybrid system engaged total power output is around 1,000bhp.
It will run in the 6MJ sub-category of hybrid racing, named after the number of megajoules of power made available to the driver by the hybrid and conventional engines per Le Mans lap.
Toyota has prepared both a Sprint and Le Mans aero package for high and low downforce circuits and completed over 25,000km in pre-season testing.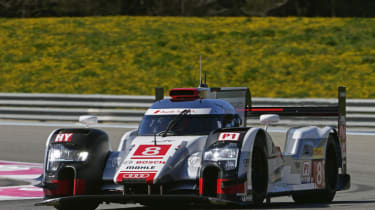 Audi Sport Team Joest – Audi R18 e-tron quattro
Audi's impressive endurance racing history – with a win at Le Mans last season and the 2012 and 2013 World Championship titles to their name – means that Team Joest cannot be discounted in 2015.
In a test session in Germany in March, the Le Mans 2014-winning #7 car driven by Marcel Fässler, André Lotterer and Benoît Tréluyer was driven by Loic Duval. Audi have announced Mike Rockenfeller as their reserve driver, after Marc Gené left to take a seat with Nissan.
The company's record with diesel engines means that the lightweight chassis will utilise a turbocharged 550bhp 4.0 V6 TDI, with an energy recovery system generating more than 272bhp. This power will be harvested under braking and fed to the front axle during acceleration.
With no torque figure mentioned by Audi, this aspect of the R18's performance is unknown. Like the Toyota, the R18 is a continuation of last year's car and makes the leap from the 2MJ to the 4MJ hybrid sub-category. A longer tail fin and redesigned Laserlight headlights are some of the changes made to this year's chassis, and like the Toyota it will run lower-drag bodywork for its visit to Le Mans.
With an Audi driver on the top step of the Le Mans podium for every year except 2003 and 2009, expect Audi to fight hard for not only the French race but their whole season.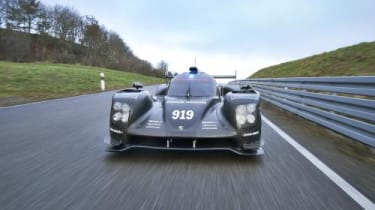 Porsche Team – Porsche 919 Hybrid
The 919 debuted at last year's 6 Hours of Silverstone, where it finished third behind the two Toyota TS040s. The #17 919, referring to the dominant 917 racer of the 1970s and the 918 hybrid hypercar, relies upon ex-Red Bull F1 ace Mark Webber, Timo Bernhard and Brendon Hartley to steer it to victory this season.
The sister car will be driven by Romain Dumas, Neel Jani and Marc Lieb. Like Audi, a third car will compete at Le Mans in order to improve their chances of finishing the event.
The hybrid Porsche has a two-litre turbocharged V4 petrol engine sending over 493bhp to the rear wheels, with an onboard electric motor producing one hundred horsepower less. This liquid-cooled lithium-ion battery stores brake and exhaust gas energy and powers the front wheels for increased power.
Impressively, the car weights 30kg less than last year's model (at 870kg), despite the upgrade from 6MJ to 8MJ class with the improved hybrid drivetrain. With one win in Brazil its opening season in 2014 and a formidable endurance racing past, Porsche will be eager to make a habit of victory this year.
Nissan NISMO – GT-R LM Nismo
Like the Porsche 919, the odd-looking Nissan has been designed to run in the 8MJ sub-category of hybrid racing. Marc Gené was the first of Nissan's drivers to be announced, moving from arch rivals Audi. Harry Tincknell, LMP2 winner at Le Mans 2014 and Olivier Pla join the team in 2015. Jordan Tresson, a former winner of Nissan's GT Academy – the Gran Turismo-based scheme which gives the best digital racers a chance to compete in real-life Nissan race cars – is part of Nismo's 2015 effort.
Max Chilton, Jann Mardenborough and Marc Gene will drive the #23 Nissan. Michael Krumm, Harry Tinckwell and Olivier Pla will drive the second. The third car which will compete at Le Mans only will be driven by Lucas Ordonez, Alex Buncombe and Tsugio Matsuda.
The Nissan flies in the face of its rivals by using a three-litre, twin-turbo V6 in a front-mid-engined layout. Weight bias has been shifted forward, allowing the GT-R LM to run 14-inch wide Michelins up front while using nine-inch tyres at the back.
Nissan has revealed that more than 1250bhp is available from both the engine and energy recovery system, with the front wheels in charge of both steering and the petrol engine's output. This unconventional layout has not been without its difficulties, though, as the GT-R LM Nismo will not compete at Silverstone or Spa-Francorchamps for an undisclosed reason. It is thought, however, that the car may have failed the crash test needed to homologate the car before its race debut on April 10 could be allowed.