Ask Goodwin - Which is the most UKIP car?
Stephen Marvin from France asks Colin Goodwin a rather political question this week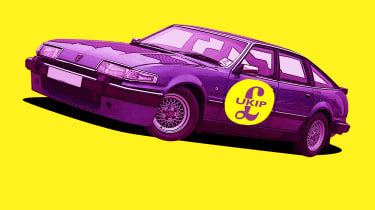 Bloody hell, Marvin the marvel, father of the Clio V6 and RenaultSport Megane RS250. Great to hear from you Steve. You have obviously seen on Twitter the photo I took of the MG ZS UKIP campaign car in Ripley high st in Surrey. Now this is a tricky one, we're a car magazine so here is not the place to talk politics so I will have to tread carefully.
First step was to check out what UKIP's pint quaffing leader drives himself. The answer is a Volvo V70. Certainly not very UKIP (Who out there can tell me which model of Volvo was actually built in the UK and by which company? – Tweet your answer). If we're going for a genuinely British car it's going to be difficult. Morgan is thoroughly British with its Ford Duratecs and Caterham of course use the Ford Sigma engine, but you're not going to be able to put many campaign stickers on a Seven. Oh hang on, there's a problem: Ford's Bridgend plant only makes the 1.6 Ecoboost and a derivative of the Jag V8.
So I think like our prospective candidate in Surrey, we're going to have to go classic or at least post-classic. A Jaguar is probably a bit too stereotypical and too flash for the run-up to an election. A Range Rover from the Rover V8 era is fantastically British but could be seen as too 'Save our countryside' and a bit too 'county'. A Rover P6 would be good because it combines a bit of old world comfort plus its advanced for its day deDion rear suspension. A 3500S in dark green would be spot on.
But the answer of course is obvious. It has to be a SD1. Maggie drove them back in the day, which is very much on message for a UKIP candidate. Clearly a straight-six is out of the question for a pint drinking party, so it has to be a V8. That leaves the choice between standard 3500, SE, Vanden Plus, V8-S or Vitesse. Vanden Plas sounds too stuffy so it has to be the Vitesse.
Ask Goodwin is a new weekly column on evo.co.uk by Colin Goodwin, one of the UK's most popular motoring journalists – and one of the early contributors to evo magazine. 
You'd like Colin – he drove an amphibious vehicle across the English channel (it caught fire half way) and he held the Guinness World Record for the highest speed in reverse (104 mph in a Light Car Company Rocket). More recently he drove from England to the Geneva motor show… in a Caterham 160.
Oh, and when he visits the evo office he does so in a plane that he built in his shed…
Check back every Wednesday lunchtime for a new column, and get involved with #askgoodwin either at @askgoodwin (Colin's Twitter) or @evomagazine. 
Make sure to get involved in the Ask Goodwin debate on our Facebook page here. You can also put your vote in via the poll system found on the evo.co.uk homepage