Car manufacturers have a tough job in not only making a car that drives well, but one that can be sold in as many markets as possible.
Nevertheless, every so often a model geared towards the enthusiast slips past the accounting department and out onto the roads. Whether for homologation purposes, to exploit a gap in the market or for the sheer want-one factor that special editions can bring, this list highlights some of the rarest and most enjoyable models to drive.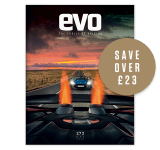 Subscribe to evo magazine
Subscribe today to have every issue of evo delivered straight to you. You'll SAVE 39% on the shop price, and get evo for its original cover price for a whole year!
Renault Clio Williams (1993-1996)
The Clio Williams celebrated Nigel Mansell's F1 title behind the wheel of a Renault-powered Williams. It gained a modified 2.0 16V engine taken from the anodyne Renault 19, producing 150bhp @ 6100rpm. In its purest first iteration, the car weighed just 990kg, with later models equipped with comforts such as door-mounted speakers and even a sunroof.
With a rev-hungry engine and talented chassis, it set the template for other fast Clios to follow.
Mazda RX-7 Bathurst R (2002)
The ultimate incarnation of the FD3S chassis was built to commemorate Mazda's dominance of the Bathurst 12 Hours race in Australia, which it won between 1992 and 1994.
Featuring the highest power-to-weight ratio of any RX-7, the 13-B rotary engine had only 1,260kg to move and featured custom height-adjustable dampers. With only 500 ever made and all of these destined for the Japanese market, you'll need to search online to grab an import nowadays.
Peugeot 306 Rallye (1998-1999)
Peugeot's Pininfarina-styled hatchback was already known for its sweet handling balance when equipped with a turbodiesel engine. When a two-litre, 167bhp in-line four-cylinder was added along with a closely-stacked six-speed gearbox, the resultant simplicity and great chassis fun echoed memories of Peugeot's other chuckable hatchback, the 205 GTI. If you preferred a more comprehensive interior, the GTI-6 was the Rallye's more civilised brother.
Porsche 911 GT3 RS 4.0 (997.2) (2011-2012)
There are just so many contenders for Porsche's most desirable limited edition. The GT3 RS 4.0, winner of eCoty in 2011, features a bored-out version of the Mezger flat-six seen in the RSR circuit racer, producing 493bhp at 8250rpm and a staggering 368bhp/ton.
Front dive planes, a carbon fibre bonnet and front wings as well a custom PASM setup add to an already attractive package. You'll need to get saving to afford one of these as prices have skyrocketed.
Fiat Panda 100HP (2006-2011)
With a harsh ride and inability to turn off the (thankfully optional) ESP as the only real drawbacks, evo ran the little Italian on the Fast Fleet after Harry Metcalfe forked out for one.
We loved its budget thrills and ability to cock a wheel in the dry, as well as its standard kit including Bluetooth connectivity that made it easy to live with. The 1.4-litre engine loved being revved, yet it still averaged nearly 40mpg.
Ferrari 360 Challenge Stradale (2003-2004)
The brilliant F430 Scuderia or 458 Speciale could have made it onto this list, but to do so would be to undersell the exceedingly-rare and focused 360 CS. With the 0-60mph run ticked off in just 4.1 seconds, the Ferrari features a naturally-aspirated flat-plane crank V8 as well as carbon ceramic brakes, an automated manual F1 gearbox and – as an expensive option – a particularly fitting tricolour stripe. A 110kg weight saving and incredibly vocal exhaust system make it all the more enjoyable.
BMW E46 M3 CS (2005-2007)
BMW had already released the outlandishly expensive, carbon-roofed CSL two years previous to the excellent CS, which inherited many of the other model's enhancements. The E46's understated looks gained £2,400-worth of added dynamic ability thanks to a quicker steering rack, bigger brake discs and revised springs.
In addition, the CSL's M-Track mode was added, allowing more slip and wheelspin even with traction control engaged. While the brakes objected to repeated heavy use, the 338bhp 3.2-litre straight-six allowed the chassis balance to be adjusted with the throttle.
Lamborghini Gallardo Superleggera (2007-2013)
The so-called 'baby Lambo' certainly didn't want for attention when it was released in 2003, but needed work to stay relevant during its ten-year production run.
Facing lightweight competition from the GT3 and 360 Challenge Stradale, Lamborghini released the lightweight Gallardo after a 100kg diet which included a carbonfibre-lashed rear diffuser and even titanium wheel nuts.
The original's grabby carbon brakes and clunky e-gear transmission were developed further when the LP570-4 Superleggera was released in 2010. Producing 426bhp/ton and with a top speed of 202mph, the lightweight Gallardo was also a sales success for the company.
Nissan GT-R Nismo (2014-)
The aggressively-bodykitted Nismo has the hardware to back up the racetrack-refugee looks. With the optional 'Track Pack' fitted, it lapped the Nurburgring in 7.08.679. Power and torque have been boosted to 591bhp and 481lb ft and with springs unique to the Nismo, the super-firm suspension is great on track.
We awarded it five stars at the beginning of this year, but with a price increase of nearly 50 per cent over the standard GT-R, the rear-engined rivals in its price and ability bracket are also very tempting.
Mercedes-Benz C63 AMG Edition 507 (2013-2014)
Germany's muscle car will be fondly remembered for the roar from its naturally-aspirated M156 V8. The handsome Edition 507, named for the 6.2-litre engine's PS output, offers 49bhp more than the standard car's 451bhp and can run to 174mph. With as-expected Mercedes waftability and strong build quality, the standard AMG Sports Suspension does well to keep the car in check when pressing on, though the damping can be abrupt.
Spot an Edition 507 by the vented aluminium bonnet cribbed from the C63 Black Series, gloss black bodywork and, if specified, optional stickers.
Ford Focus RS Mk1 (2002-2003)
Our inability to decide whether or not we actually like the Mk1 RS is well-known, with the Ford now on four out of five stars in our Knowledge pages. Potential buyers should test drive as many examples as they can, as we believe that the suspension geometry and tyres fitted to different models have a great effect on the RS's Quaife diff.
While 212bhp from its turbocharged four-cylinder may seem a little limp in 2015, the RS is an entertaining drive and its understated, 65mm wider track whispers rather than shouts its WRC breeding. Subeditor Richard Lane recently drove his own one to the Mk3 Focus RS launch, where he discovered that the lithe Focus stops as quickly as an Alfa Romeo 4C thanks to the vented set of 325mm Brembos up front.
Subaru Impreza RB320 (2007)
Subaru's commemoration of 2001 World Rally Champion Richard Burns was only available in Obsidian Black and with orange highlights, in a nod to Burns's distinctive crash helmet design. Experienced tuners Prodrive fettled the RB320's stance by pairing Eibach springs with Bilstein dampers and with only 320 ever made, low-mileage models now command a premium. The flat-four 2.5-litre boxer engine produces 316bhp at 6000rpm and really feels strong once you pass 3500rpm.
Mitsubishi Lancer Evolution VI Tommi Makinen Edition (2000-2001)
Tommi Makinen won no less than four WRC world titles with Mitsubishi. To celebrate this, the Japanese manufacturer fitted white Enkei alloys, Recaro seats embossed with 'T.Makinen Edition' and a jutting front bumper bereft of fog lamps onto its now iconic car.
The Evo's five-speed gearbox is incredibly sweet and the pedals all react as you want, with the Brembo brakes having strength and depth, and the throttle an incredible response even if you just brush the top of its travel. Only 4.5 seconds were needed to reach 60mph in standard trim. With blue, black, white and silver offered as options, the red, Ralliart-striped model is the colour combination best associated with the Finnish legend.
Pagani Zonda Cinque Roadster (2009-2010)
Virtually every Zonda ever built could be classed as a special edition, such is the level of customisation available to the rarefied few able to own one.
The Cinque Roadster, however, was an even more limited-edition variant of the Zonda Cinque coupe, featuring a carbo-titanium monocoque chassis and a paddleshift gearbox. The same 7.3-litre Mercedes-Benz V12 remains, producing 669bhp at 6200rpm with a claimed top speed of 217mph. Nevertheless, with only five apiece of the Roadster and Coupe models built, they don't pop up for sale very often.
Vauxhall VX220 Turbo (2003-2005)
Vauxhall's mid-engined sports car spawned a turbo variant in its later years, and with 197bhp propelling just 930kg, the VX220 Turbo makes brilliant and safe progress even in miserable weather. Chassis development with Lotus resulted in a nimble car capable of embarrassing much more expensive machinery.
Volkswagen Lupo GTI (2000-2005)
With 123bhp, the little Lupo offered VW build quality and spec (such as bi-xenon headlights) in a small, city-friendly chassis. Aggressive styling with twin, centre exit rear exhausts provide a chunkier appearance and the option of a six-speed gearbox allowed drivers to exploit the four-cylinder's 123bhp. An interestingly rare alternative to the Citroen Saxo VTS/Peugeot 106 GTI genre that is usable every day.
Honda Civic Type-R Mugen (2009-2011)
This rapid Honda was a final farewell for its high-revving VTEC motor. It produced, for the time, an Audi S3-rivalling 256bhp from its bored-out 2.2-litre K20 engine. A jutting front splitter, rear spoiler and bonnet vents help to differentiate the Mugen from other limited editions such as the Championship White. Retailing at over £38,599 when new, the price for individuality is still a high one today.
Mini John Cooper Works GP R56 (2013-2014)
With only 2000 ever made, the rorty Mini comes with an aero kit reducing drag by six per cent, ensuring both rarity and practical presence. It's a stiff, hyper-agile car and with plenty of torque-steer and even more lift-off oversteer, the GP is something of a shock when you first experience it.
A strong contender in 2013's eCoty, the GP was upgraded with six-piston calipers and 330mm front discs and reworked Electronic Differential Lock Control just a couple of the car's main highlights.
Dodge Challenger SRT Hellcat (2014-)
The title of the world's most powerful muscle car ever built goes to Dodge's Challenger SRT Hellcat. Using a supercharged V8 which produces 707bhp, the Dodge uses an eight-speed TorqueFlite automatic gearbox (essentially an upgraded version of the one used in lesser Challengers) to put the power to the rear axle.
With interior styling cues from the original 1971 Challenger and chassis re-engineering to cope with the added power, the Dodge is an interestingly offbeat alternative to a Ford Mustang.
Aston Martin V8 Vantage N430 (2014-)
It may be in its twilight years now, but the baby Aston still manages to entertain thanks to its 430bhp, 361lb ft 4.7-litre V8 offered with a six-speed manual or seven-speed single-clutch paddleshift gearbox. Henry Catchpole drove the brightly-hued special edition in Scotland during his exploration of the Old Military Road, where its stability and progressive braking ability were put to good use.