This year F1 is facing some of its toughest criticism ever, so what exactly is wrong with the sport?
Critics say the cars are undramatic and the drivers are unemotional. Long-standing fans complain about expensive ticket prices and Grand Prix races in uninterested countries (remember the empty grand stands in Turkey?) detatching them from their sport.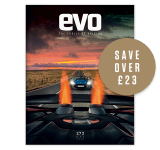 Subscribe to evo magazine
Subscribe today to have every issue of evo delivered straight to you. You'll SAVE 39% on the shop price, and get evo for its original cover price for a whole year!
But are things really that bad? F1 does feature world-class drivers like Fernando Alonso and Lewis Hamilton and can still deliver some fantastic racing.
To help gauge the state of the world's premiere single seater series, evo looks at five things that are wrong with Formula 1.
Whinging drivers
F1 drivers were once famed for their soldier-like bravery and for their addiction to speed and danger. Today, many make headlines for their moaning.
Partly thanks to our increased exposure to team radio, it appears some F1 drivers would rather see intervention from F1's Race Director, Charlie Whiting, than attempt to out-race their rivals. 
As recently as April's Chinese Grand Prix, Mercedes' Nico Rosberg utilised the post-race press conference to complain about his teammate, Lewis Hamilton. He said: 'it's interesting to hear from Lewis that you were just thinking about yourself with the pace in front. That was compromising my race.'
Surely Nico would have been better off pushing Lewis on track, forcing him to up his pace, rather than following him all race only to then complain to the media. Lewis certainly thought so: 'it's not my job to look after Nico's race. If Nico wanted to get by he could have tried but he didn't.'
It was Aryton Senna who said 'if you no longer go for a gap that exists, you are no longer a racing driver because we are competing, we are competing to win.' It appears that philosophy has disappeared from much of today's grid.
DRS
There's no doubt about it, F1's DRS (drag reduction system) has substantially increased overtaking. Though more overtaking is welcome, it's the way in which DRS overtakes work that's the issue.
We'll be the first to admit that the processional races of the early 2000s were often boring. Something needed to be done to make it easier to follow a car closely. 
Formula 1 drivers are amongst the very best in the world. Giving them DRS, an artificial aid to overtaking, reduces something that was once an immense challenge, to something akin to a 'push-to-pass' procedure.
It also damages the show, as drivers opt to avoid a daring lunge, preferring to wait until the main straight where they can simply breeze past their rival with the DRS flap open. Yes, it's increased the number of overtakes, but it's reduced the quality of each move. 
Predictable tyres
Despite being F1's sole tyre supplier, Pirelli hasn't had it easy. Initially, Formula 1 Management (FOM) wanted tyre compounds with grip levels that significantly varied to spruce up racing. Pirelli followed suit.
Then FOM decided the rubber was too unpredictable. Pirelli listened again, creating the more consistent tyre compounds we have now.
On Pirelli's latest tyres, Chinese GP winner Lewis Hamilton was consistently 2.5sec faster when using softs compared to the mediums. This level of consistency allows teams to design strategies in the simulator back at team-HQ, long before the cars have turned a wheel in anger at the circuit.
F1 should see strategists thinking on their toes, responding to constantly changing race dynamics. The last two seasons have proved it: predictable tyres hinder racing. We'd like to see tyres degrading faster and compounds with wider ranging grip levels; something between what we have now and what Pirelli originally set out to make.
Engine Formula 
It looks as though Mercedes' 2014 engine dominance will stand in 2015. Ferrari's engine appears to be much improved, but we're still faced with, at very best, a two-engine formula.
Both Renault and Honda are lagging behind in terms of performance and development. The results have seen Red Bull and McLaren – teams with massive budgets and workforces - significantly disadvantaged.
We're not suggesting engines should be equalised. But we would advocate rules and regulations that allow for cars with differing strengths to excel.
Such is the importance of engine power under current regs, that not even Adrian Newey, F1's most successful designer, can make the Red Bull RB11 competitive. 
Pricing out fans
Silverstone recently announced it'd be selling 1000 tickets to 2015's Grand Prix for £99. That's a ticket for an adult, for non-seated, Sunday general admission. So for a couple to watch the race, even at this special discounted price, the cost would be nudging £200. And most spectators will have to spend significantly more than this.
The reality of modern F1 is that it's becoming increasingly out of reach to the average punter. While expensive, four-figure tickets to the Paddock Club grant access close to the action, cheaper general admission passes can see spectators fighting for a view of the circuit.
And what's the reason for these escalating costs? We can thank F1's money-motivated business model. For a circuit to host a race, it can cost hundreds of millions of pounds. But it'll receive little return on television revenue and advertising (that money goes to the F1 Group - a company Bernie Ecclestone runs). It's little wonder then that privately owned circuits like Germany's Nurburgring are unable to host races. 
A circuit's main income comes from ticket sales, so it's also unsurprising to see fares rising as circuit costs increase. The harsh truth of F1's business model, is that rising costs are passed directly on to fans.