Ask Goodwin - Goodwood Revival or Festival?
If Goodwin had to choose between the variety of the Festival or the action of the Revival, which would he opt for?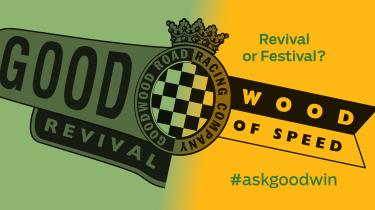 Revival or Festival? Matthew Martin, Cambridge
That's one I've been asking myself for the last dozen years or so. I've given both of them a miss this year as I'm not a creature of habit but I'll be back at Goodwood next year for sure. The Revival features fantastic racing on one of the country's best (and most hairy) circuits. The dressing up I can do without. Don't mind popping on a collared shirt and a jacket but I'm not going to troll to a fancy dress shop and hire a military uniform. My dad served in the RAF, I didn't and it wouldn't feel right wearing the uniform.
My happiest memory at the Revival was watching Barry Sheene riding in the Lennox Cup while sitting next to his wife Stephanie in the grandstand. That'll stay with me forever. I've never driven or ridden at the event and I'd jump at the chance if it came up.
Then there's the Festival. A bit too busy these days watching stuff whizz up the hill but it's not that exciting a spectacle. I drove up it once in a demonstration but I'd never do it again because so many people far better than me have pranged on the course. But getting near to the answer to your question, what I really love about the Festival is the variety of machinery in the paddock. One year I watched the Howmet turbine fire up and it was amazing. 
Richard Petty's NASCAR Plymouth, Group C, CanAm racers and an equally diverse selection of bikes. I think it's this variety and spread of eras that gives the Festival my vote. Best Festival moment? Having a brand new Arai open-face helmet signed by Nino Vacarella. I was ogling his old Alfa T33 when the man himself appeared. 'Has anyone got a pen?' I asked, 'I've got a permanent marker,' someone replied, so Vacarella, the world's fastest ever schoolmaster, signed my lid.
Ask Goodwin is a weekly column on evo.co.uk by Colin Goodwin, one of the UK's most popular motoring journalists – and one of the early contributors to evo magazine. 
You'd like Colin – he drove an amphibious vehicle across the English channel (it caught fire half way) and he held the Guinness World Record for the highest speed in reverse (104 mph in a Light Car Company Rocket). More recently he drove from England to the Geneva motor show… in a Caterham 160.
Oh, and when he visits the evo office he does so in a plane that he built in his shed…
Check back every week for a new column, and get involved with #askgoodwin either at @askgoodwin (Colin's Twitter) or @evomagazine. 
Make sure to get involved in the Ask Goodwin debate on our Facebook page here. You can also put your vote in via the poll system found on the evo.co.uk homepage