Ask Goodwin - Have you auditioned for Top Gear and if not, why not?
Not even a heavy paycheque can tempt Goodwin to get behind the camera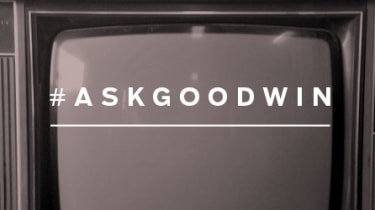 Have you auditioned for Top Gear and if not, why not? Bob Knutt, Belfast 
Why not? I suggest you search for 'Colin Goodwin' on YouTube and see if you can find any footage of Goodwin on camera. You'll have a job on your hands. From day one, when magazine publishers told editorial staff they were expected to stand in front of a camera and talk about the latest offering from a manufacturer few of us care much about, I've run and hidden every time I've seen a camera near me. And for good reason: I'm hopeless at it. 
I did appear on TV once. I was interviewed for a live piece on the six o'clock news on the subject of speeding. Luckily it only went out in Wales, not that this meant I got away with it as my sister saw it and rang me moments later to say that I was terrible and to never do it again. It's advice I've stuck to ever since. 
I've known the Top Gear lads for years, two-thirds of them before they went anywhere near a TV studio, and spend quite a bit of time with the one who wears loud shirts. The money is highly attractive, as a peak into May or Hammond's garages will show, but the loss of privacy would be hard to deal with. The people who come up and ask for an autograph or a selfie seem to always be very pleasant, but it doesn't half take up time and it's a bit annoying if you're halfway through a jalfrezi at the time. 
The other snag with the fame thing is that if you get caught speeding, which happens to me fairly regularly, it will be in the papers if you happen to present a motoring programme.
No, I think I'll stick to the written word and leave the telly to the experts. We still don't know who Chris Evans will have on his show and I've not heard any names mentioned in the business. I'm not even sure if they've started filming anything. What I do know is that you won't have to put up with my fizzog being beamed into your sitting rooms.
Ask Goodwin is a weekly column on evo.co.uk by Colin Goodwin, one of the UK's most popular motoring journalists – and one of the early contributors to evo magazine. 
You'd like Colin – he drove an amphibious vehicle across the English channel (it caught fire half way) and he held the Guinness World Record for the highest speed in reverse (104 mph in a Light Car Company Rocket). More recently he drove from England to the Geneva motor show… in a Caterham 160.
Oh, and when he visits the evo office he does so in a plane that he built in his shed…
Check back every week for a new column, and get involved with #askgoodwin either at @askgoodwin (Colin's Twitter) or @evomagazine. 
Make sure to get involved in the Ask Goodwin debate on our Facebook page here. You can also put your vote in via the poll system found on the evo.co.uk homepage.