Talking point - Mazda MX-5 or Fiat 124 Spider?
The two roadsters are similar under the skin, but which would you want to own?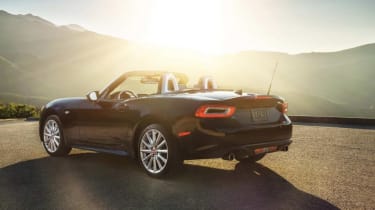 Fiat recently revealed its 124 Spider, which shares its platform with Mazda's latest MX-5.
The chassis and interior are largely the same on each car, but Fiat and Mazda have gone their own way with exterior styling and powertrains - the MX-5 uses a choice of 1.5- and 2-litre naturally-aspirated engines, the 124 Spider a 1.4-litre turbocharged four-pot.
But which of the two would you rather have, and why?
Post your thoughts below. The best comments will appear in the next issue of evo.