Ask Goodwin - Can you help me avoid more speeding points?
One reader is on the brink of penalty point disaster. What car does Goodwin suggest to stem the speed?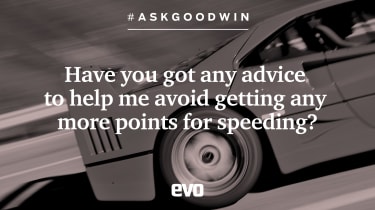 I have a bit of a points issue – for speeding – have you any advice to help me avoid getting more? - Ben Peerless, Aylesbury
This has been an issue for me for the past 36 years, though obviously an issue that has got more serious with the invention of the speed camera. And more worringly, the possibility of doing stir for speeds deep into three figures. Driving more slowly is the obvious suggestion but that is not helpful because probably like me, you love speed. Not just speed, but making progress. The fascination of seeing a sign reading: Reims – 250km and knowing that in the 911 RS you are driving you will be there in not much more than an hour.
Most of my speeding offences have occurred on motorways. I've always been very good in built-up areas and have driven past schools at under 30mph well before the 20mph limits came in.
You'd think this job with its regular access to very high performance cars would be a nightmare for the speed enthusiast, but ironically I've had more tickets in very ordinary cars than in quick ones. I was stopped in an F40 once but was let off because I was only a bit over the limit but otherwise it's been a Clio, a Volvo, Jag, Merc and a few others. Only once on a motorbike which is surprising with three years of despatch riding in the mix.
Only driving a classic car might help but it'll need to be something pig slow like a Morris Minor and I couldn't put you through that. A hot Mini (an original of course) on short gearing might be an answer. I fear that it's not so much the machine but the driver. Perhaps hypnotism might be affective. Speed limiters in cars that buzz you are quite handy but what about a device that you wear on your wrist that zaps you with a current when you go over a pre-set speed? The Goodwin Speed Alerter, it'll be called.
Ask Goodwin is a weekly column on evo.co.uk by Colin Goodwin, one of the UK's most popular motoring journalists – and one of the early contributors to evo magazine. 
You'd like Colin – he drove an amphibious vehicle across the English channel (it caught fire half way) and he held the Guinness World Record for the highest speed in reverse (104 mph in a Light Car Company Rocket). More recently he drove from England to the Geneva motor show… in a Caterham 160.
Oh, and when he visits the evo office he does so in a plane that he built in his shed…
Check back every week for a new column, and get involved with #askgoodwin either at @askgoodwin (Colin's Twitter) or @evomagazine. 
Make sure to get involved in the Ask Goodwin debate on our Facebook page here. You can also put your vote in via the poll system found on the evo.co.uk homepage.