Ask Goodwin - What would you build in your personal skunkworks?
Having built a plane, Goodwin now wants to construct a Hethel/Stuttgart hybrid in his shed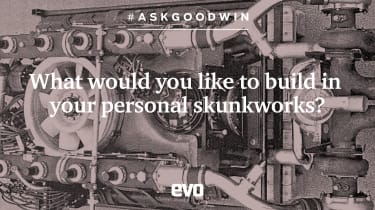 What would you like to build in your personal skunkworks? - John Deal, Wrexham
On long, boring motorway journeys, this is the sort of thing I think about out. Not having a garage, let alone a facility that could be transformed into a skunkworks shouldn't stop the dreaming. Thinking about it, I did manage to build a plane in my shed so I should get my act together.
My number one plan involves a Mk1 Lotus Elise. Those who know me well are saying 'He's going to put a small-block Chevy in it, isn't it?' It's a thought, but Lotus did that when it built a GT1 version of the car in the '90s. No, I'm going to use a Porsche flat-six, an air-cooled one to save on the complication of having to use radiatiors and all its plumbing. Besides, I want to move the fuel tank to the front of the car to free up space in the back and shift some weight forwards.
I'll use a Porsche G50 gearbox but since the car will be mid-engined I'll have to turn the gearbox around and that will mean swapping the crown wheel over to the other side of the pinion to avoid having five reverse gears and only one forward one.
So far so good, but my master plan involves moving the engine's cooling fan from its vertical position on the end of the motor to a horizontal position above it, where it is on the 908 and 917 racing cars. It'll look amazing poking out of the engine lid and even better when I've fitted six long intake trumpets that will flank it. The combination of fan whine and intake roar will be amazing. I'll probably drive the fan via a pulley and belt from the crankshaft and then turn the drive through 90 degrees using a shaft with a pinion gear on the end of it.
The engine itself will be naturally aspirated and have a swept volume of 3.5 litres to give around 300bhp. If I can keep the weight well under 1,000kg it'll be quick enough. Obviously a longitudinally mounted engine and its gearbox will be longer than the Lotus powertrain so I'll have to lengthen the rear clamshell by a few inches. Right, who's got an Mk1 Elise that's gone in backwards?
Ask Goodwin is a weekly column on evo.co.uk by Colin Goodwin, one of the UK's most popular motoring journalists – and one of the early contributors to evo magazine. 
You'd like Colin – he drove an amphibious vehicle across the English channel (it caught fire half way) and he held the Guinness World Record for the highest speed in reverse (104 mph in a Light Car Company Rocket). More recently he drove from England to the Geneva motor show… in a Caterham 160.
Oh, and when he visits the evo office he does so in a plane that he built in his shed…
Check back every week for a new column, and get involved with #askgoodwin either at @askgoodwin (Colin's Twitter) or @evomagazine. 
Make sure to get involved in the Ask Goodwin debate on our Facebook page here. You can also put your vote in via the poll system found on the evo.co.uk homepage.