Ask Goodwin - What exactly was the 'Bentley Incident'?
Colin Goodwin experienced autonomous driving before the term had been coined, and lived to tell the tale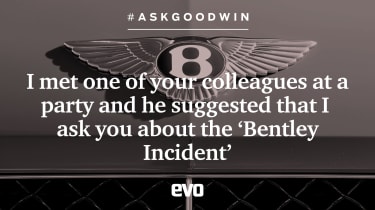 I met one of your colleagues at a party over Christmas and he suggested that I ask you about the 'Bentley Incident' - Hugh Cranston, Marseille
Ah yes. I don't know if there's a statute of limitations on this sort of thing but at least Bentley is owned by a different organisation these days. A fellow road tester and I were putting a Bentley Continental T through its paces at the Millbrook testing facility in Bedfordshire. We'd done the 0-60mph business and the rest of the acceleration and braking figures and all that was left to do was a top speed run around Millbrook's two mile-long bowl. Now, this banked circuit is split into four lanes and, in the top one if you hold a steady 100mph the car will, in theory, lap all day without the driver having to make any steering inputs.
My man and I thought it would be a good laugh to get the Conti up to a ton and then set the cruise control. Once the car was happily circulating hands off we thought it would be even more amusing if we clambered into the backseat and experienced autonomous driving (a phrase unknown in the late '90s).
As well as car magazines, the facility is also used by the good and the great of the motor industry for prototype and durability testing, such as calibration and emissions tests. On this day there was a bloke circulating in an Opel Corsa, test gear squeezed into every available bit space around the driver (before today's digital data logging kit that's no bigger than a smart phone test gear of yesterday required a Transit to transport it around). His face, as we smoked past in the Benters sitting in the back waving, was a picture.
And then the cruise control decided to go on the blink and two and a half tonnes of Bentley started to drift down the lanes while my mate and I fought our way over the front seats to grab the steering wheel. As always with this sort of jape, once we knew that no phone call to Bentley to explain a £150,000 crash had occurred was required, we were bent double laughing. Unlike the Corsa driver who grassed us up to the test track guardians.
Ask Goodwin is a weekly column on evo.co.uk by Colin Goodwin, one of the UK's most popular motoring journalists – and one of the early contributors to evo magazine. 
You'd like Colin – he drove an amphibious vehicle across the English channel (it caught fire half way) and he held the Guinness World Record for the highest speed in reverse (104 mph in a Light Car Company Rocket). More recently he drove from England to the Geneva motor show… in a Caterham 160.
Oh, and when he visits the evo office he does so in a plane that he built in his shed…
Check back every week for a new column, and get involved with #askgoodwin either at @askgoodwin (Colin's Twitter) or @evomagazine. 
Make sure to get involved in the Ask Goodwin debate on our Facebook page here. You can also put your vote in via the poll system found on the evo.co.uk homepage.